In preparation for tomorrow's Corner View about coffee, I decided today to post my favorite recipes that use coffee as an ingredient. 
Ten years ago I was a cook and barista at a small Middle-Eastern Cafe called Cafe Taza (it isn't there anymore) in Columbia, Missouri. During that time, I bought this T-shirt to wear to work:
I still have the T-shirt, but it's almost worn out.
It was while working at Taza that I learned how to make my favorite summertime drink:
Frozen Mocha (frappuccino)

Coffee ice cubes (freeze leftover coffee in ice cube trays)
milk or cream
chocolate syrup
Fill a blender about 3/4 full of coffee ice cubes (about 24 cubes).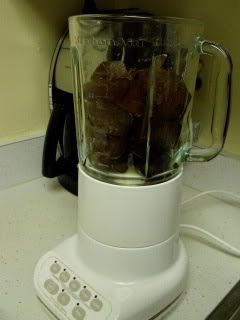 Then add 1 Cup of milk and 1/2 cup of chocolate syrup. Blend until smooth. Serve in tall glasses.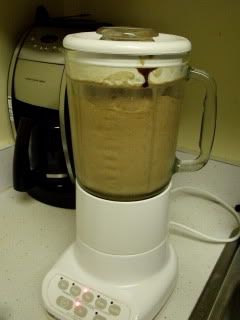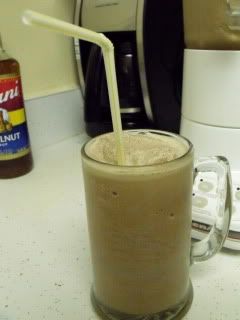 My favorite chocolate cake recipe also calls for coffee:
This was Blaze's Birthday cake back in December. He said he wanted cupcakes and a big cake, so I made the little tree shaped cupcakes to go around the main cake (his birthday is St. Nicolas Day).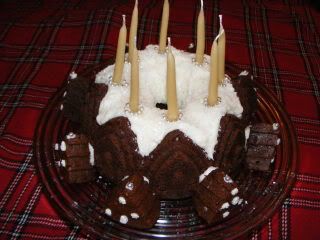 Crazy Cake
1 1/2 Cups unbleached white flour
1/3 Cup unsweetened cocoa powder
1 tsp. baking soda
1/2 tsp. salt
1 Cup sugar
1/2 Cup oil
1 Cup left over coffee that has cooled
2 tsp. pure vanilla extract
2 Tbsp. vinegar
Preheat oven to 375 degrees.
Mix everything together, leaving the vinegar as the last thing to be stirred in, because that is what activates the leavening. Pour the batter into a greased cake pan. Bake for 25-30 minutes.
This recipe makes only one layer of cake, so it will need to be doubled if you plan to make a large sheet cake or a double layer cake.

My Mom's Tiramisu Recipe
2 Packages of Lady Fingers Cookies
2 1/2 Cups of strong coffee
1/2 Cup coffee liqueur
9 eggs separated
1 3/4 Cups of sugar
1 1/2 teaspoons of vanilla
1 1/2 pound of Mascarpone cheese
1 Cup of finely chopped semisweet chocolate
1/2 Cup of sweet cocoa powder
Mix the cold coffee and the liqueur in a large bowl. In batches, dip the cookies in the coffee mixture. You want them to be moist on the outside but still dry on the inside. Beat the egg yolks with 1/2 of the sugar until the mixture is thick enough to form a long ribbon when you lift the beaters. Add the Mascarpone cheese and beat for 2-3 more minutes. Set aside. Beat egg whites, adding the remaining sugar a bit at a time, until they form stiff peaks and have a glossy sheen, about four minutes. Gently fold the egg whites into the Mascarpone mixture, until the mixture is all the same color. Add the chopped semisweet chocolate and gently fold into the mixture. In a 9 inch by 17 inch glass baking dish, assemble the dessert. Layer the bottom of the pan with soaked cookies. Top with a layer of the chocolate-Mascarpone mixture. Repeat the procedure to make one more layer. Using a flour sifter, cover the top of the Tiramisu with a thin layer of sprinkled cocoa powder. Place the Tiramisu in the refrigerator and let it rest for at least 5 hours, but it's better to let it sit overnight. Serve.
Note: You will notice there may seem to be enough of the mixture to make a second, smaller Tiramisu. This usually never happens to me because I always keep tasting to make sure that there is enough sugar and chocolate. By the time I am done, there is just enough for only one pan. Don't laugh. It will happen to you too!