10:00 a.m.
I haven't had to worry about watering the garden this week, but at what point do I start building the ark?
It's been raining for 4 days straight. Last night's weather report warned that it might drop more rain on us than Tropical Storm Fay.
2:00 p.m.
There was a break in the rain. The sun came out. Blaze was able to go play on the swing and DH and I went for a walk to look at the garden and the lake.
Our first tiny eggplant is growing:
This little lizard was staying out of the wet grass by sunning himself on the new bamboo trellis Blaze and I started building last week, but haven't finished yet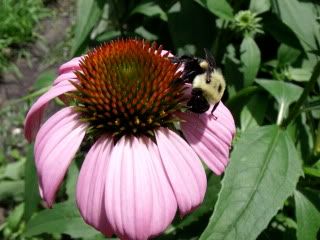 The storm knocked down a tree, which is now blocking one of the dirt roads that lead into the student gardens.
The water level in the lake was a bit high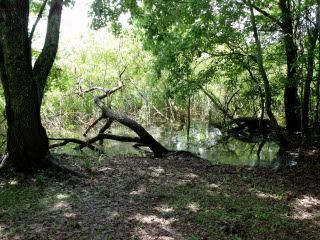 This monstrously large snapping turtle swam right towards us as we stood on the lake shore, looking at the water. I guess it thought we were going to throw it food (feeding the animals in Lake Alice is against the law).
I was actually very glad to see this little alligator again. I'm pretty sure this is the same one that was in our garden, so the last time I saw it, it was waiting to cross the street between the gardens and the lake on a day when the traffic was particularly heavy due to graduation.



8:25 p.m.

So, I guess, I now know where to find a couple of the animals when I have to start loading the ark. It's started raining again.