After taking a little Summer break, Corner View is back. : )
Corner View gives people all over the world a chance to share what is unique about their corner of the globe. It is hosted by Jane at
Spain Daily
every Wednesday. This week's theme is "September".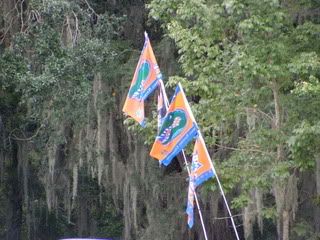 There are two things that are very unique to September in my corner of the world, lovebugs, and the start of the college football season.
Lovebugs seem to be less common this year than they have been in past years, so I was unable to take a picture of them, but here is a link to a short article that explains what they are and how to deal with them.
Lovebugs in Florida
This past Saturday was the second game of the season for the Florida Gators football team, so I took a little walk around the University of Florida Campus Saturday morning, so I could show you the typical pre-game excitement.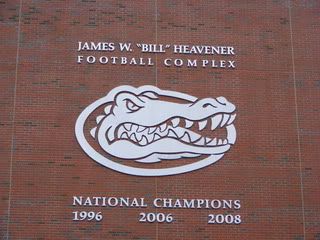 Tailgate parties begin several hours before any game ( even when the game is at 12:30p.m., like it was on Sat.) and most of the tailgaters have one of these beanbag toss games, known as "cornhole".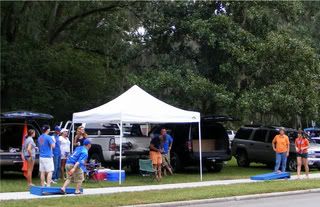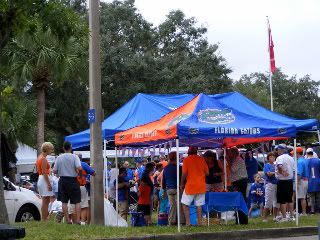 Gators fans take their team support to lengths I have not seen in other college towns I have lived in.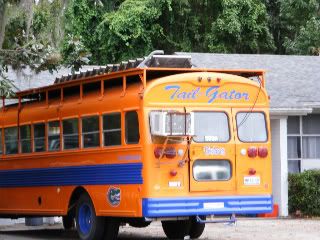 There may not be many leaves changing color yet, but the people seem to be: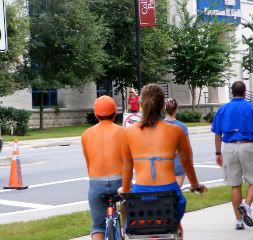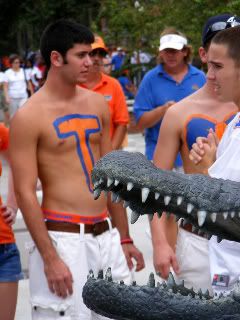 A sea of orange and blue: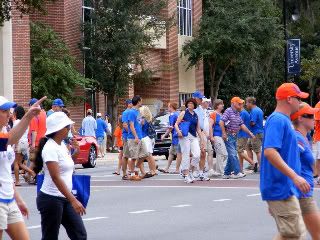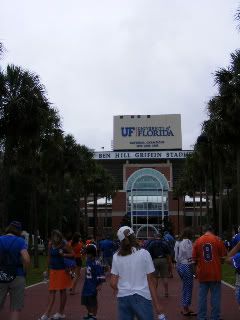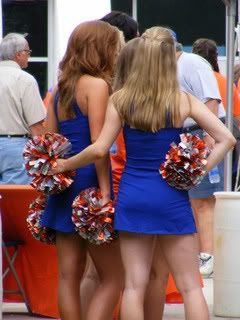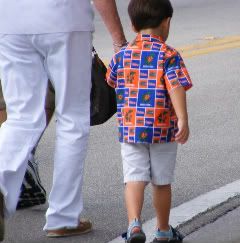 Even the city busses were showing their team spirit: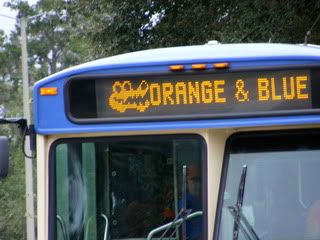 The real gators were in attendance and feeling competitive, as well.
This poor guy has a leg missing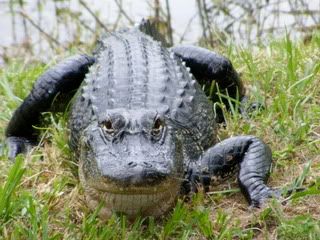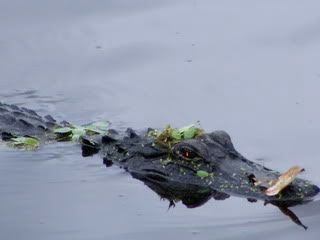 I have been asked in the past on this blog, if I'm not afraid of the alligators in the lake right across the road from our apartment. Normally I answer that I'm not, because they aren't very big (most are about 3 feet long from the tip of their noses to the tip of their tails) and I don't stand that close to them ( I use "zoom" when photographing them), but this time I was scared, because I was only about 2 yards from the one entering the water.
P.S. If you were wondering who won Saturday's football game between the Florida Gators and the Trojans of Troy, Alabama, the Gators won, 56 to 6.