I love any excuse to celebrate, and one of my favorite silly holidays is coming up. September 19th is International Talk Like a Pirate Day.
The Official International Talk Like a Pirate Day website
For the past 3 or 4 years, I've done a lot more than just
talk
like a pirate. I've also dressed like a pirate and made food with a pirate theme. If you would like to go all-out for this piratical holiday, too, here are some pirate projects from years past.
Dress Like a Pirate:

What be a pirate without his/her horded jewels?
I don't really have much in the way of jewelry, so last year I made some. One big hoop earring would be the best choice for a pirate, but since I didn't have one, I made these instead:


I found these at Micheal's. They're like "Shinky Dinks" that you can print on with your computer printer.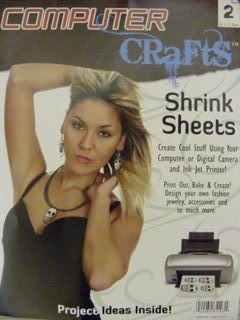 This is a very simple project. First find the pictures you want to use (this is actually the hardest part), print the picture(s) onto the plastic sheet, let the ink dry, cut the picture out leaving just a small amount of white around it, and use a regular hole punch to punch one or two holes in it. Then in an oven that has been preheated to 375 degrees, bake for 2 minutes. That's it. The little plastic charm is now ready to use.
Before baking: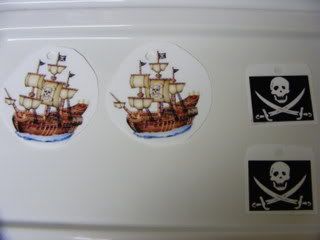 After baking:
Next, I added a jump ring to each one ( 99 cents a pack ) and earring hooks (also 99 cents a pack)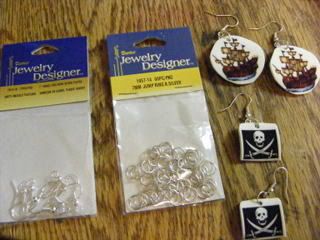 And they were ready to wear: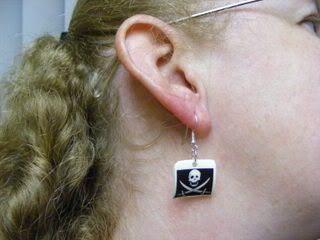 Using the same process, I was also able to make fancy coat buttons using vintage pictures of famous pirates:

I traced around a juice glass to make the circles: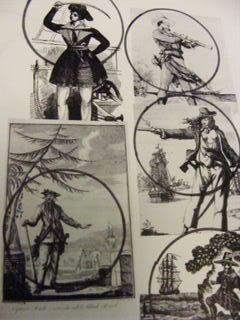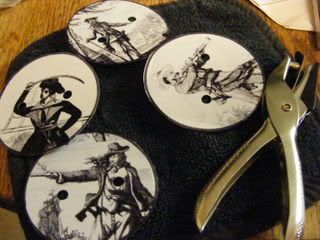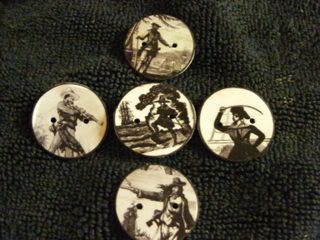 I don't actually have anything to sew these onto right now, I just wanted to see if this worked, so instead I used some elastic thread and braided it together to make a bracelet out of the buttons.


Here is the pirate necklace that I made for Blaze:

By punching two holes in the top of the charm, I was able to thread it so that it would lie flat. He wanted it to look like a dog tag.
Head gear is also an important accessory for the well dressed pirate, so here are two ideas:
A square of silk dyed red with cherry Kool-Aid and a little cider vinegar: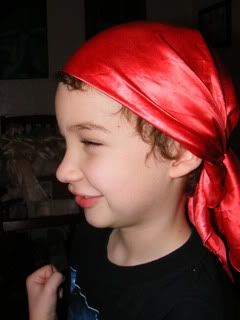 How to fold a news paper pirate's hat:

Pirate's Hat



This is my favorite pirate shirt pattern. It's not really meant to be a pirate shirt, but it works well for that, as well as being a good basic man's shirt or under shirt for a variety of historical periods: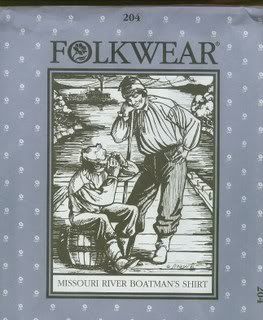 Eat Like a Pirate:
Aye, ye scurvy dogs! It be time to cook up some pirate grub!
The pirate themed bento lunches had a little extra flare because I had a new toy, a black food coloring marker that I bought at Micheal's.
DH says he wishes he was in the marketing meeting when someone introduced the idea of an edible "sharpie". I think it's shear brilliance!

This lunch was supposed to be "pirate school". The students were red bean mochi:



There was also a treasure chest made by making a mini loaf of bread, cutting it part way open, scooping out some of the insides, and filling the cavity with humus and sliced carrot "gold coins".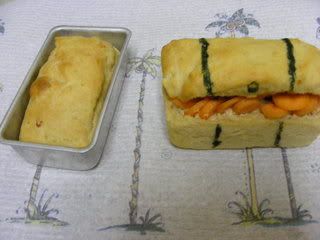 The final product also contained fish sticks with a slice of cheese over the top and a hard cooked egg as the "teacher":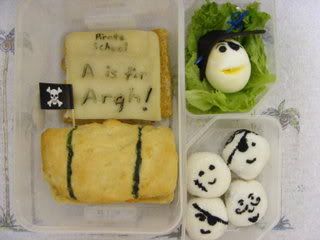 The next lunch had goldfish crackers and a ship made from tuna salad in a half of a mini pita bread with cheese sails: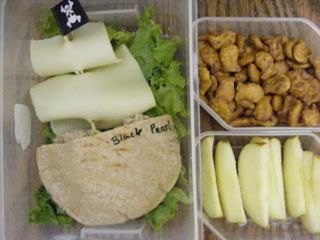 Pirate pizza with pepperoni patches:


This was from one night's dinner, but I had trouble keeping the sails up: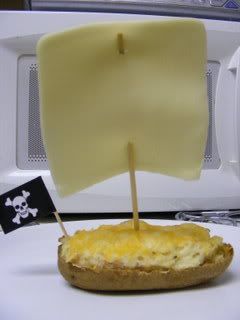 There are also ready-made pirate foods in the grocery. Pirate Booty is a snack food sold in the chip or health food section of the supermarket. Our local grocery store chain always has it on sale around Talk Like a Pirate Day.


Pirates need dessert too. Here is a picture of the cake we had for Blaze's 6th birthday:
Last year's Talk Like a Pirate Day picnic:
The food included: Cape Cod Brand sea salt and pepper chips, sea food soup,

fruit-kabobs on little plastic swords, and pirate pasta salad.


Shell shaped pasta, chopped tomatoes, onion, and bell pepper, with a piece of the pepper saved to make the skull. Covered in Newman's Own Brand Caesar Salad Dressing and parm. cheese. Garnished with the green pepper "skull" and carrot "bones".
We also had celery "planks"


Cream cheese stuffed celery with Sponge Bob Fruit snacks walking the planks
For dessert we had box mix spice cake baked into mini loaf shapes and turned into treasure chests with a filling of cream cheese frosting and "fruit gusher" jewels, along with peanut butter cannon balls.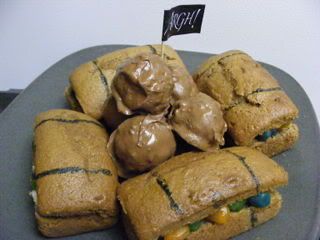 For the peanut butter cannon balls, mix 1 Cup of room temperature natural peanut butter with 1/2 cup powdered sugar and 2 cups of rice crispies.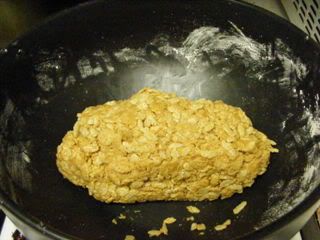 Then, roll the peanut butter mixture into small balls and cover each ball with melted chocolate. Cover a plate with waxed paper and set each chocolate covered ball on the wax paper. Set the plate in the refrigerator until the chocolate is set.



For beverages we had root beer and cider:


When we had eaten so much we were uncomfortable, we retired to the adult bedroom to sprawl across the bed ( Blaze said we were in our hammocks) and watched Pirates of the Caribbean The Curse of the Black Pearl.



P.S. If you want to be more authentic with your pirate grub, serve beef jerky and hard tack. Here are some recipes for hard tack if you want to try it:

Sea Biscuits