For those of you who have been following this blog for awhile, you may remember that when this blog started, my oldest daughter, Ula, was a major character in my stories of family life and she was also a regular contributor to the comments. Although she did make a major contribution to my pirate literature entry (that being one of her favorite subjects), she has not been seen around here much, and you may be wondering what's going on in her life. Well, the official stories I've been getting are that she has been keeping quite busy with school ( this is her junior year in college), moving out of the dorm and into a shared house with friends was a good thing (except when the bathroom floods and the water runs under her bedroom wall), she is working a few more hours at her campus job this year, and that she has met a nice guy.
But... I think the picture one of her friends posted on Facebook tells the real story.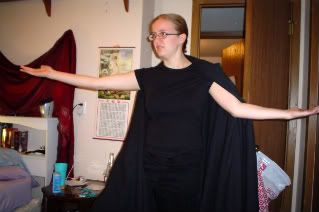 She is working towards World Domination!
I wonder what the perks are for the mother of the Empress of the Universe?