It will not officially be Autumn until Sept. 22, but this week we began making things for our Autumn nature table. Our first project was making a woven place mat out of sugar cane leaves, which will be the base of our display.

The sugar cane is a perennial in the student gardens, but it has grown much more sparsely this year than it did last year, maybe because last winter had so many days below freezing. This is really not the ideal climate for sugar cane, so we are lucky it grows here at all.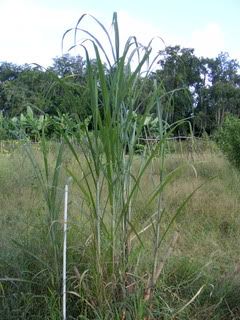 Blaze and I cut several of the largest leaves off the sugar cane. I used a place mat we already had, as a way of measuring the leaves the proper size (many of the leaves were long enough to make two lengths of warp or weft ). After doing a small amount of weaving, I found it helpful to use some tape to hold the finished edge in place.
It really was a joint project. Blaze did much of the weaving, but I cut the leaves and used the sewing machine to sew around the edges after the weaving was done. The sewing seemed easier in theory than it turned out to be in practice. No matter how hard I tried, I couldn't sew a straight line, but it isn't that noticeable on the finished mat, unless you know what you're looking for.
Heavy books had to be set on the corners of the mat to keep them from curling up as the leaves dried.


After making the modeling beeswax last week, I really wanted more Autumn colors, so I tried using tea bags of black tea to make a brown color, but that failed. There was no noticeable change in color. Next, I tried freshly ground coffee, but that only slightly tinted the wax, in a way that would only be noticed if you had some uncolored wax with which to compare it. That was when I gave up trying to find a natural dye in my kitchen and instead broke one of the brown block beeswax crayons in half and added it to the re-melted modeling beeswax. That made a wonderful brown color. This picture doesn't really do it justice. The finished wax looks so much like milk chocolate that my husband says he keeps wanting to eat it.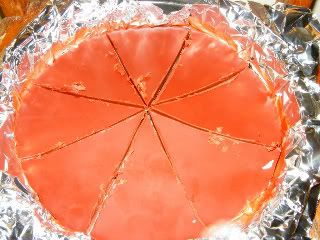 Blaze used the modeling beeswax and a couple small cookie cutters to decorate a pillar candle, while I glued some small pine cones and Sweet Gum Tree "Gum Balls" around a circular piece of wood to make a candle holder.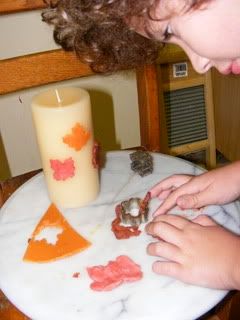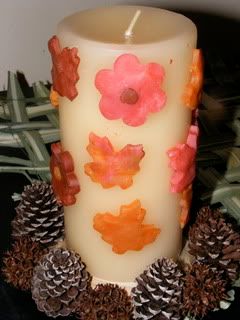 Modeling Beeswax Recipe