This is my favorite festive red food!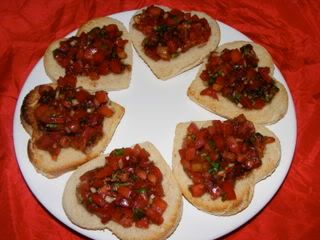 8 Roma tomatoes seeded and finely diced
3 garlic cloves finely chopped
5 Tablespoons extra-virgin olive oil
2 Tablespoons balsamic vinegar
3 Tablespoons fresh basil, finely chopped
3/4 teaspoon salt
1/2 teaspoon black pepper
1 baguette, cut into 1/4 inch slices
In a large bowl, add the tomatoes, garlic, olive oil, vinegar, basil, salt and pepper. Stir the ingredients until well mixed and let them rest at room temperature for about 30 minutes. Toast the bread slices in the oven. When cool enough to handle, top each slice with a heaping teaspoon of the tomato mixture. Place the bruschetta on a tray and serve.