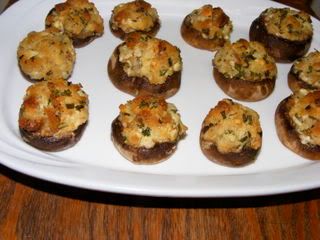 I had a whole bag of bread crusts left after cutting all those heart shapes out of bread for Valentines day, so breaking them up into fresh bread crumbs for this recipe was a great way to use them up.
Stuffed Mushrooms
8 ounces feta cheese
1/3 olive oil
2 cloves of garlic, crushed
1/8 teaspoon black pepper
1 tablespoon finely chopped fresh rosemary
1 tablespoon finely chopped fresh basil
2 tablespoons finely chopped fresh parsley
2 Cups fresh bread crumbs
24 large white mushrooms, stems removed and caps washed well and dried
Pre-heat oven to 350 degrees F.
Mash feta cheese in a large mixing bowl. Add olive oil and mix thoroughly. Add the garlic, pepper, and herbs and mix well.
Add the bread crumbs and mix and mash until it becomes a dough-like consistency.
Fill each of the mushroom caps and place them on a baking sheet. Bake for 35 to 40 minutes.