This week's craft and cooking projects have been all about Valentine's Day, so here is yet another one we made:
Using the same red yarn that I used for the washcloth, we made lacy looking ornaments to hang on our little table-top tinsel tree that gets decorated for all seasons and holidays ( DH has a dream of someday having a home-office decorated in the early 1960's idea of ultra-modern or futuristic, with a large tinsel Christmas tree that will stay up all year long. He refers to this room as his "Rat Pack Christmas Room". The little tinsel tree was my gift to him a few years ago, because of this dream-room.)
These ornaments are very easy to make, if you don't mind getting your fingers messy.
I spread out 2 sheets of aluminum foil and used a pencil to draw a heart shape on each one. Then we dipped red yarn into white, clear drying, glue, using our fingers (o.k., my fingers) to remove any excess glue. The yarn was then used to trace the heart shapes on the foil and to fill in the heart with loops and designs. I also tried using some of the yarn to write the word "love" and that turned out well, also.
We had some clear glitter leftover from a project we did at Christmas, so while the glue was still wet, we sprinkled some of that on.
Blaze did not like the feel of glue on his fingers.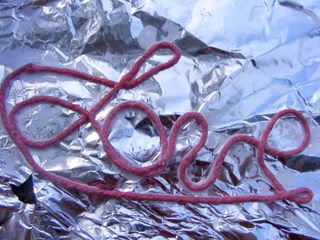 After the ornaments had dried over night, I carefully peeled them off the foil and had to add a few little dots of glue to the back of each one for strengthening ( where our loops hadn't stuck to the yarn around them). When that glue was dry, they were ready to be hung up.