It's feeling very Spring-like here, so Blaze and I made a living Spring nature table display to put in his room. We collected moss and a moss covered rock, while we were out in the woods last week, and added some small herb plants and pebbles to make a table top garden.
I chose Germander and Rue because they looked like miniature trees and creeping thyme because it would stay short and drape over the side of the flower pot.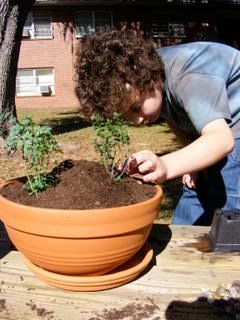 We planted the herbs first, and built up the potting soil so that it was higher in the center of the pot, that way it looks like a little hill. We made a tiny garden path out of polished pebbles and then added the moss.
As finishing touches, we added a shell full of water to be a tiny pond and the wooden bridge that Blaze got for Christmas.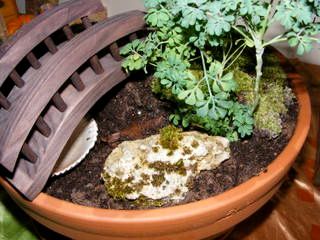 Blaze also planted a tiny pot of 4 leaf clover seeds, so that hopefully we will have clovers growing by St. Patrick's Day next month (Target had the little pots with four-leaf clover seeds for $1).