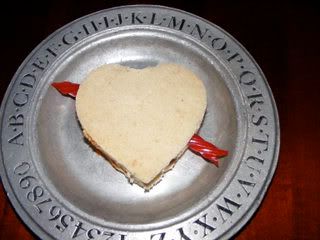 Here is a more kid-friendly Valentine lunch.
I cut out the bread first, using a large heart shaped cookie cutter (that cookie cutter gets a lot of use this time of year). Then spread one slice of bread with peanut butter and red jelly (we used seedless raspberry). Next, I used the kitchen shears to cut a strawberry flavored twizzler candy into an arrow shape and laid the candy at an angle across the jelly.
These would be good as part of a Valentine Bento lunch.