Tomorrow, Feb. 28th is the 10th annual "Open-That-Bottle-Day", even though I just heard about it for the first time a few days ago on National Public Radio. This idea was conceived by two columnists at the Wall Street Journal. If you want to read more about it, here is a link:
http://online.wsj.com/article/SB123336416399535473.html
The idea is, that if you are one of the people who has been saving a bottle of wine for years, for that special occasion, but no occasion ever seems to be special enough, it is time to open that bottle. Make your own special occasion by sharing that bottle this Saturday with family or friends.
As soon as I heard the story on the radio, I decided this would be the time to open the bottle of mead we purchased in Kansas City, before we moved to Florida, almost 6 years ago.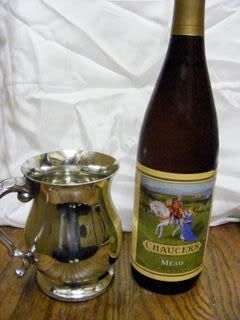 This bottle was purchased to save for our wedding, because DH and I had had our first "date", by going to the Kansas City Renaissance Faire, where we had that same brand of mead. The wedding, however, turned out to be a very small affair, with only my children in attendance, so the wine was never used. Since then, we have talked about opening it several times, but it never seems to happen.
Do you have a bottle like that?