Florida is a large peninsula surrounded by beautiful beaches, but I have decided not to show you any of those today.
The beach we've been spending the most time at lately is the small strip of sand along the St. Johns River, in front of the Kingsley plantation house.
I've been enjoying solitary walks along the beach and spending time sitting on the seawall with Blaze watching "crab town".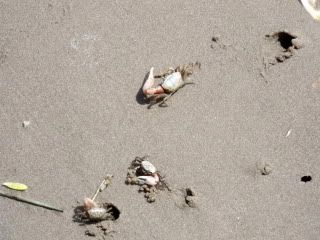 The beach is littered with red bricks from the Fort George Hotel which burned down more than a hundred years ago.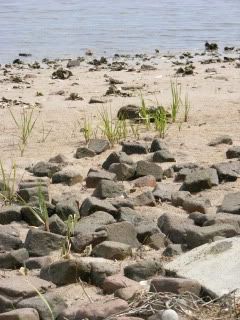 This is the only picture I could find of the Fort George Hotel. It was built in 1875 and burned in 1889.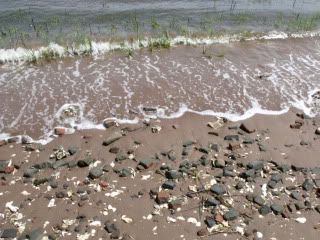 The same strip of beach during high tide:
If you would like to enjoy the sun, sand, and surf around the world, check out these other Corner View participants:
jane
,
ladybug-zen
,
ian
,
bonnie
,
esti
,
sophie
,
cele
,
modsquad
,
caitlin
,
joyce
,
ani
,
couturecoucou
,
kim
,
a day that is dessert
, natsumi
, epe
,
kaylovesvintage
,
trinsch
,
c.t.
,jeannette
,
outi
,
schanett
, ritva
,
dongdong
,
francesca
,
state of bliss
,
jennifer
,
dana
,
denise
,
cabrizette
,
bohemia girl
,
ruth
,
dianna
,
isabelle
,
amber
, a girl in the yellow shoes
, mister e
,
janis
,
kari
,
jgy
,
jenna
,
skymring
,
elizabeth
,
audrey
,
allison
,
lise
,
cate
,
mon
,
victoria
,
crescent moon
,
erin
,
otli
,
amy
,
ida
, caroline
,
lisa
,
dorte
,
kimmie
,
la lune dans le ciel
, nicola
,
malo
,
vanessa
,
britta
,
virgina
,
april
,
rebecca b,
kyndale,
sunnymama,
karen,
kristina,
angelina
,
sophie
,
dorit
,
goldensunfamily
,
Janet
,
mcgillicutty
,
desiree
,
travelingmama
,
daan
,
myrtille
,
cris