For music in my corner of the world, let me take you to St. Augustine. The "Old City" attracts all kinds of colorful street musicians and live music in the park.
There are guitar playing folk singers: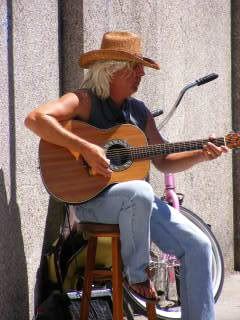 A one-man-band: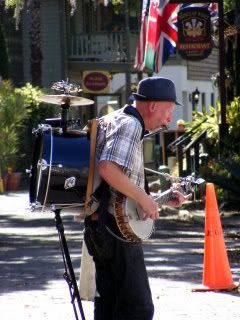 A giant leprechaun, singing old Irish songs: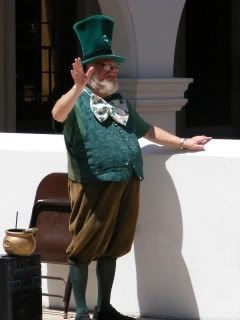 and one weekend there was this guy: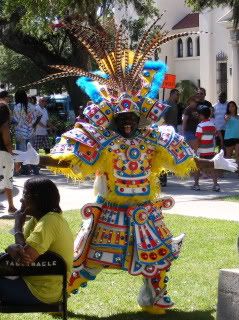 We arrived too late to see him dance, but he was happy to strike a pose the second he saw my camera pointed at him.
Soon after I snapped the picture above, a Reggae band started playing in the bandstand and this old lady came up on the stage in front of the band and started dancing. I don't think I'll ever have that kind of nerve, but I hope I still have that much energy when I am her age.
Even closer to home, I have purchased a homeschool curriculum for this coming school year, that recommends a kinderlyre (child's harp) as the musical instrument that second graders should learn to play.
We haven't tried to learn how to play it properly yet, but Blaze has been playing with it since it arrived last week.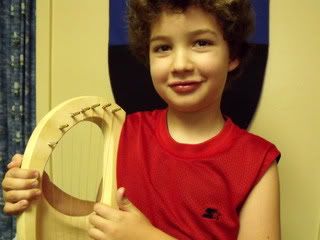 Dance your way around the world with these other Corner View participants:
jane
,
ladybug-zen
,
ian
,
bonnie
,
esti
,
sophie
,
cele
,
modsquad
,
caitlin
,
joyce
,
ani
,
couturecoucou
,
kim
,
a day that is dessert
, natsumi
, epe
,
kaylovesvintage
,
trinsch
,
c.t.
,jeannette
,
outi
,
schanett
, ritva
,
dongdong
,
francesca
,
state of bliss
,
jennifer
,
dana
,
denise
,
cabrizette
,
bohemia girl
,
ruth
,
dianna
,
isabelle
,
amber
, a girl in the yellow shoes
, mister e
,
janis
,
kari
,
jgy
,
jenna
,
skymring
,
elizabeth
,
audrey
,
allison
,
lise
,
cate
,
mon
,
victoria
,
crescent moon
,
erin
,
otli
,
amy
,
ida
, caroline
,
lisa
,
dorte
,
kimmie
,
la lune dans le ciel
, nicola
,
malo
,
vanessa
,
britta
,
virgina
,
april
,
rebecca b,
kyndale,
sunnymama,
karen,
kristina,
angelina
,
sophie
,
dorit
,
goldensunfamily
,
Janet
,
mcgillicutty
,
desiree
,
travelingmama
,
daan
,
myrtille
,
cris