Blaze has expressed an interest in what DH does for a living, so we read
The Magic School Bus Shows and Tells
and
Archaeologists Dig for Clues
.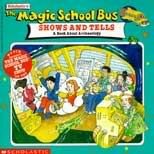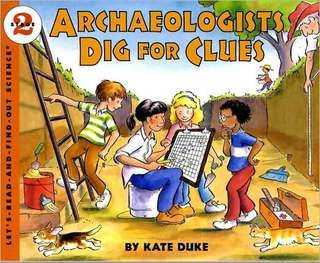 We will also be reading
Motel of the Mysteries
, which is about future archaeologist
misinterpreting what they find, when they dig up a 20th century motel.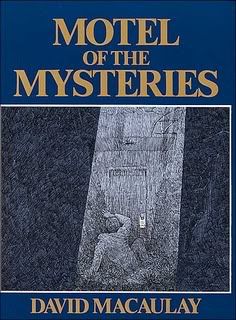 There is only one more week of Summer Field School at Kingsley, so Blaze and I are driving out later today to spend the weekend, since it will be our last chance to spend a full weekend there.
I don't think I've shown any pictures of The Fort George Club. This is now the rangers offices and volunteer housing. It's also where they house the students during field school, but back in the 1920's this was part of a private resort.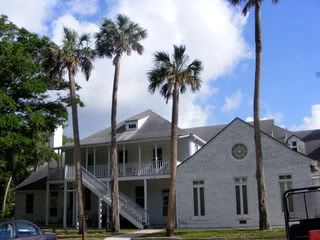 Blaze on the porch, flirting with all the college girls. They thought he was so cute and he loved the attention.
The Fort George Club building is an interesting place. It's built using faux tabby, so it looks like it's built out of the same stuff as the slave cabins, and it has some unique architectural features. This is the most inexplicable thing in the house. This door is only about three feet tall and leads to a small attic, but the door is located on this platform about shoulder high off the ground in one of the bathrooms. The students keep the chair propped against the door, because they say the door scares them.
Finally, here is the funniest of the movies DH took at Kingsley on week 4 of field school, once again starting the professor:
The extremes a photographer will go through, to get that perfect shot.