The theme of this week's Unplugged Challenge on
Unplug Your Kids
is "tiny", so Blaze and I made things for his bendy dolls. He built a log cabin out of his set of Lincoln Logs and I made a picnic set out of wooden dowels and wooden balls.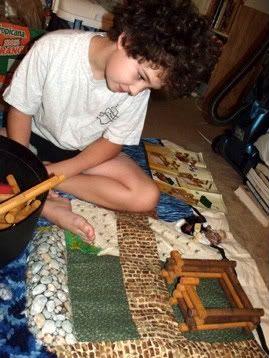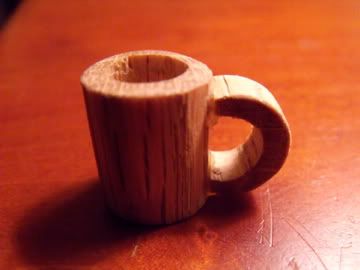 The cups are made from a 5/8 of an inch oak dowel, cut into 3/4 of an inch sections and then drilled part way through . The cup handles are made by drilling a hole in the center of the dowel and then cutting off slices. I then sanded off one side until it was the proper shape and glued the handle onto the cup with strong glue.
The submarine sandwich is made from the same oak dowel, cut length-wise. The sandwich filling is round and triangular shapes cut out of wool felt. Then it was all glued together.