This past week has been a good time to be learning about the weather, because we've been having quite a mixture. It's been sunny and rainy part of every day, and over the weekend we saw 3 rainbows in 3 days.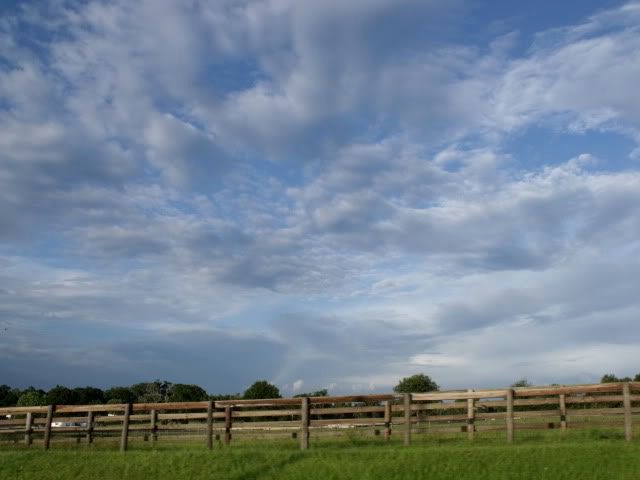 It's a little hard to see, but there is a little rainbow just at the top of the trees in this picture I took on the way home from Orlando.
Blaze and I have been making weather related projects out of 2 liter soda bottles this week.
It was a hardship, but somebody had to drink all this soda in the name of science (I had a little help from Nika). ; )
Our first project was connecting one empty bottle and one that was 2/3 full of water with a "Tornado Tube" ( a screw-on plastic connector) that we bought at the local teachers' supply store.
Blaze loved this thing! He played with it for hours, even taking it with him to the bath last night.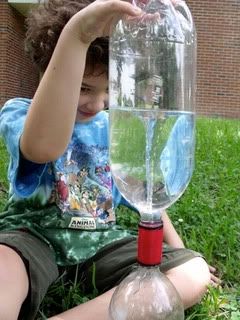 We tried it going clockwise and counter clockwise and both directions worked well.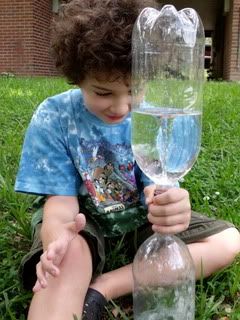 Our next project was making a rain gauge out of another empty 2 liter bottle.
To make a rain gauge, start with an empty, clean 2 liter bottle and remove the label.
Using sharp scissors, cut off the top (curved) part of the bottle.
Next, use a permanent marker to draw a line all the way around bottle along the ridge near the bottom of the bottle. Use a ruler to mark a small line every inch up from the circle.
Number the lines starting at the lowest one, 1-5.
Fill the bottom of the bottle with pebbles and water up to the circling line. This will keep the bottle from tipping over.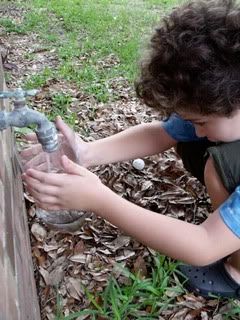 Place the rain gauge outside, away from trees, and wait for the rain.
I don't think we'll have to wait long
If you have more empty soda bottles laying around that need re-purposing, we made this "ocean in a bottle" project a couple months ago.
Ocean in a Bottle
*********************************************************************
This is weather related, although not aimed at the younger kids out there. I'm assuming I'm not the only one with a gloomy teenager in the house.