I have a Summer Reading Recommendation for anyone over 4th grade, especially if you like Greek Mythology, the five book series, Percy Jackson and the Olympians, by Rick Riordan.
The first book in the series,
The lightning Thief
has been very popular with the Middle School boys I work with. I've been recommending the book to children with ADHD, Dyslexia, or both, because according to this series, that is a sign you are a demigod (one mortal parent, one Greek God parent). The Dyslexia is because your brain is hardwired for ancient Greek and the ADHD will keep you alive in a battle situation.
One of the things that the middle school boys particularly like, is the fact that the story doesn't take place in ancient Greece. Percy is a modern American boy, who has been raised by a single mother in New York City. At the beginning of the story, Percy has no idea he is anything special, in fact, he has pretty low self esteem, because he struggles with reading and paying attention. He has also been kicked out of several schools.


J.R. coloring a picture of Zeus for the marque of
The Lightning Thief
he had to hold up during his oral book report at the end of the school year: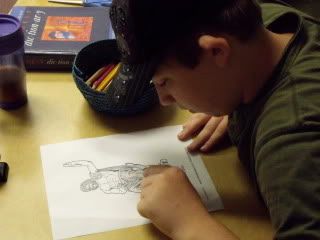 If you or your children really enjoy Greek Mythology and would like to color some pictures to go with your reading, here are two links to coloring pages.
Greek Gods, More Cartoon-like
Greek God Coloring Pages, More Detailed
I get a kick out of the fact that there are now book trailers, so here's the one for the latest Percy Jackson book:
If you are already a fan of Percy Jackson, there is a great website with trivia games, word puzzles, computer wall paper, and many other fun things:
Percy Jackson and the Olympians
I just finished reading the last book in this series,
The Last Olympian
, which was just released in hard cover last month, but I don't think this is the last we will hear of Percy Jackson.