This year's field school was mostly girls and mostly very young, so it had more of that summer camp feeling. To show what I mean, here are a couple videos from the final week:
Group sing-a-longs:
and wheelbarrow races:
and, of course, at the end of any camp, there has to be a closing ceremony:
There was not the neat closure they had hoped for, though. Just as they were thinking about covering up all the holes for another year, they uncovered something in the center of the sugar mill. They had been trying to find the sugar mill's gudgeon for weeks now (A gudgeon is a circular fitting, often made of metal, which is affixed to a surface. It allows for the pivoting of another fixture. It is generally used with a pintle, which is a pin which pivots in the hole in the gudgeon. As such, a gudgeon is a simple bearing. -Wikipedia), but what they found was a pig, a full skeleton of a neatly buried juvenile pig, which they have now named Gudgeon.
*Note to Waldorf parents and teachers: That little Waldorf Toy Store dust pan and broom set works very well for archeology work. The little wisk broom became a favorite with the professor.
Saturday, was clean-up day. This was some of the left over food, it doesn't include what was in the refrigerators: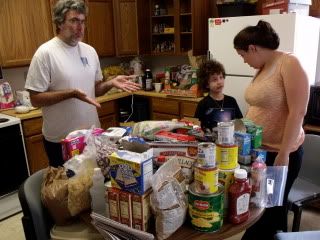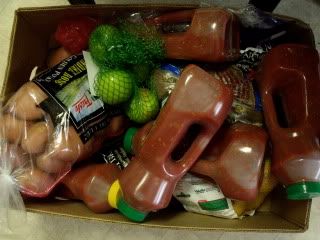 Some of the canned food doesn't expire until after next year's field school, so those things went back on the pantry shelves, but a lot of the food needed to be used sooner and we brought home so much that we won't have to buy any food for a while. I just don't know where we'll put all of it.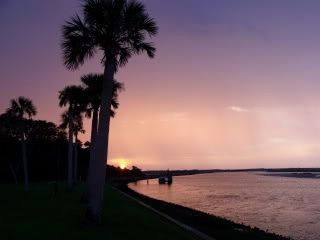 Mmm Song
Mmm I'd like to linger
Mmm a little longer
Mmm a little longer here with you.
Mmm it's such a perfect night
Mmm it doesn't seem quite right
Mmm that it will be our last with you.
Mmm and come September
Mmm I will remember
Mmm our camping days and friendships true.
Mmm and as the years go by
Mmm I'll think of you and sigh
Mmm this was goodnight and not goodbye.
- 4-H camp song from Camp Shawanasee