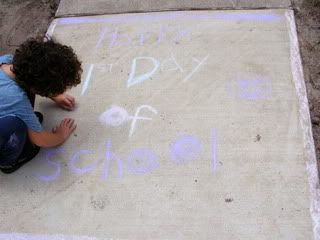 We started our new school year today. Once again we will be using Math-U-See for Math, because I really like the way the lessons are presented. Blaze still has about 10 lessons left in the Alpha book ( I know I said we were going to do those over the Summer, but that determination only lasted long enough to finish one more lesson after the regular school year ended).
Math_U-See

For the first time, I ordered a curriculum instead of completely making up my own. We will be using the second grade curriculum from Christopherus, Waldorf homeschooling, but I'm going to be supplementing it with extra handwriting and reading materials, as well as the Math-U-See.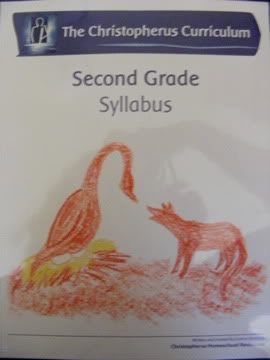 Christopherus
Waldorf Second grade includes a unit about Saints and Heroes, so I have begun collecting books about Saints. We are not Catholic, so we didn't have very many of these books in our collection prior to this.
We are starting our school year with a Language Arts unit of animal legends.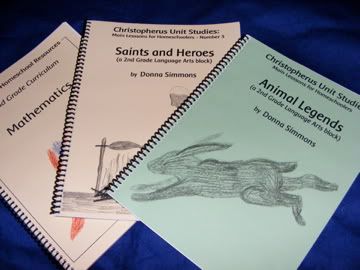 Following the recommendations of Christopherus, we will be using a kinderlyre for music lessons, but we will not start that for a couple more weeks.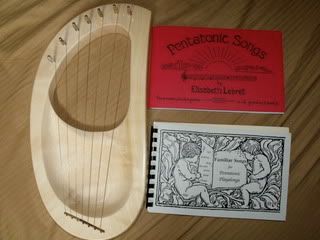 For art, we have a new a new book about drawing with the block crayons, which I would like to use. Blaze is not a big fan of crayons, though. I think it's mostly the way they feel that bothers him ( he has some sensory issues about the way things feel in his hands). It is recommended by the Waldorf Curriculum that children not be introduced to pencils until third grade, but Blaze will be using Lyra pencils for most of his work. This is one of those things where the child's temperament is more important than the established educational practices. If he isn't comfortable, he won't do his best work.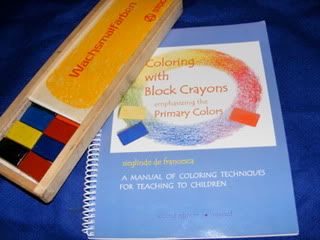 We'll also be doing lots of craft projects and water color painting for art. Blaze told me a few days ago that he thought his whole school day should be nothing but water color painting.
Unfortunately, the picnic table that we had been using for our messy art projects, like painting, is gone and our the area behind the apartment where it used to stand, currently looks like this: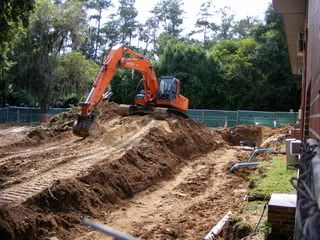 We are scheduled to have another water outage sometime between 10 a.m. and 4 p.m. today. It will be the third such outage in the past week (one was unscheduled, because the workmen broke the water main).