One of the books we are taking with us on our vacation, is
Stella and Roy Go Camping
, by Ashley Wolff. It is the story of a boy and girl who go camping with their mom. The boy, Roy really wants to see a bear and gets excited every time he sees animal tracks, because he's sure each one is a bear. His older sister Stella has brought along a guide book of animal tracks and corrects him each time, while showing him what animal the tracks really belong to. This book is a fun way to teach children how to identify some common animal prints.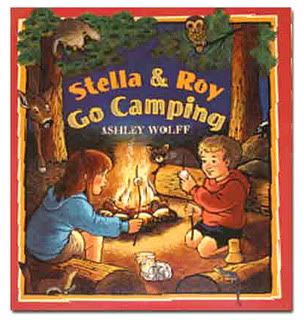 We are also taking
Tacky Goes Camping
. I love all the Tacky the Penguin books! "Tacky was an odd bird, but a nice bird to have around."
For our read-aloud bedtime story, we are bringing
The Boxcar Children, Surprise Island
, by Gertrude Chandler Warner
We are also taking Blaze's copy of
The Smithsonian Kids Guide to Birds of North America, East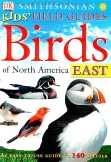 To keep Blaze entertained around our campsite, we are also taking a set of walkie-talkies, a pair of binoculars, a box of colored pencils, a notebook, a few little toy cars, a couple of bendy dolls, a deck of Uno cards, and a deck of Go Fish cards.
Underwater Viewer
We also made an underwater viewer to take with us, because there is supposed to be a creek right next to our campsite.
We started with an empty orange juice carton.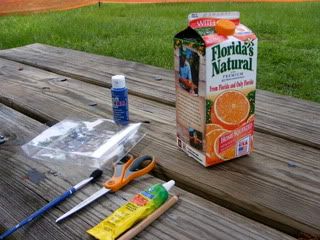 This project gave us a use for some of the clear plastic packaging that we normally just throw away. Blaze traced around the bottom of the orange juice carton, so we could cut a piece of clear plastic to fit inside the carton.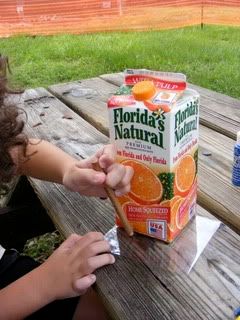 I cut the top off the carton and cut a window out of the bottom of the carton ( the heavy waxed cardboard was too tough for Blaze to cut through it).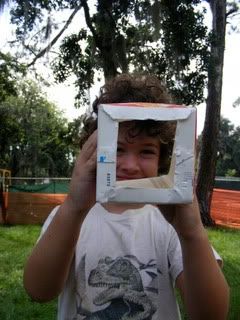 Blaze then painted the carton with acrylic paint. It took two layers of the base paint to cover up the words and pictures printed on the carton.
After the base paint dried, we added an ocean scene.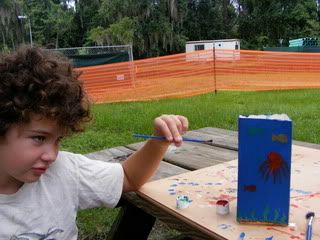 When all the paint was dry, I glued the clear plastic to the inside of the window cut in the bottom of the carton, using strong waterproof glue.