Gainesville, Florida has a wonderful resource for children with special needs. It's called "Noah's Endeavor" and it provides adapted and inclusive athletics, art, and outings for children with disabilities, as well as their siblings. I can't say enough nice things about this program. Blaze has been involved in their soccer program, bowling nights, and planetarium shows. This week he went to a carpentry workshop.
Lowes stores all over the country have special Saturday workshops for children, where each week a different building project is offered and patches are given for completed work. Our local Lowes store donated several of these kits, goggles, aprons, patches and tools to Endeavor for their weekly Summer "paint and play" session. Blaze has been resistant in the past to going to these art days, but now that he's gotten to know some of the other people who attend ( thanks to swimming class), he was willing to give it a try last night. He loved it!
Blaze built a miniature golf game and a time capsule.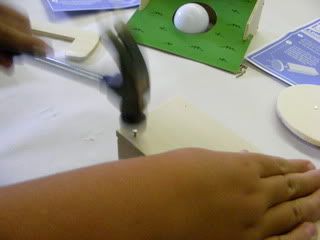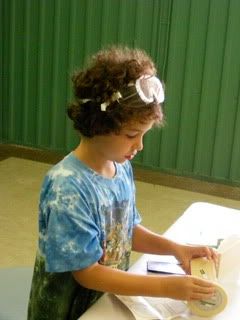 explaining to me what a time capsule is and why he is never going to bury it
One of the things that I really like about Endeavor is that it really is all-inclusive. I spend a lot of time in the waiting room while Blaze is in his various therapies (O.T., Speech, and P.T.) and often times there are children who do not attend therapy, sitting around waiting for their siblings who do. They stare at cartoons, fidget, and ask their mom or dad a few hundred times what time it is. At the Endeavor activities that never happens. Anyone who wants to play can play. No child has to sit, wait, and feel left out while their sibling has all the fun.
If you are in the Gainesville area and have a special needs child or would like to volunteer, I highly recommend that you check out the Endeavor website and get on the mailing list.
Noah's Endeavor Website