Charleston, South Carolina is a "foodies" paradise. DH is already talking about how he wants to go back some day, but instead of focusing the trip on the history and houses of the city, he wants to only focus on the food.
Our wonderful food experiences in Charleston began Saturday morning when we discovered that out Holiday Inn Hotel was located catty-corner from the Farmers Market (held in a park on the corner of Meeting Street and Calhoun Street). Since our hotel did not provide a free breakfast, this was a wonderful way to have an inexpensive breakfast, stock up on snacks for later, and listen to some old-time music.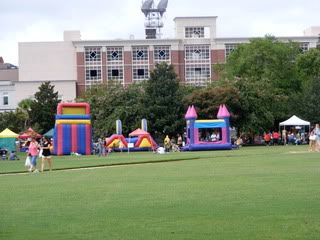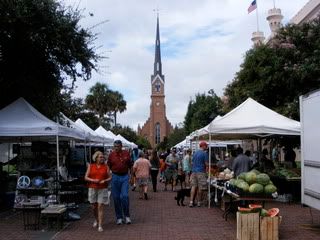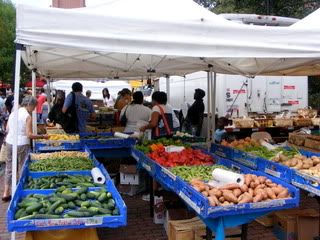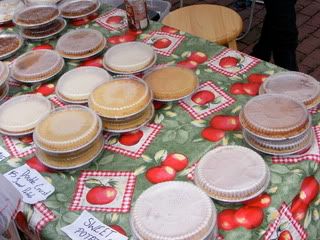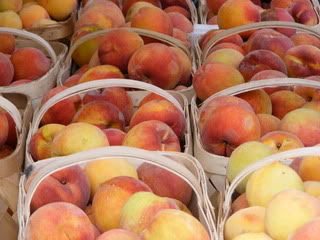 Nothing beats fresh donuts,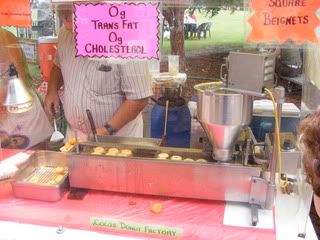 but then add to that, sitting on soft grass, listening to live music, and sharing fresh donuts.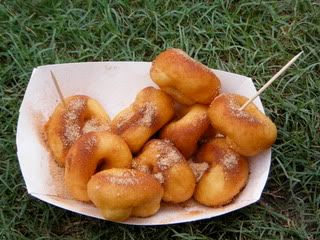 Being a coastal city, there are lots of restaurants that specialize in seafood. Our first evening in Charleston we ate at Hymans, which is wildly popular and for this reason, usually requires a wait for seating.
Hyman's Seafood Restaurant
Many famous people have eaten at Hyman's and each has a small metal plaque attached to the table where they sat. Blaze's spot said that once Lindsay Wagner sat there.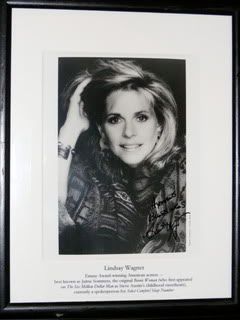 DH sat in the spot where Judge Wapner once sat.
I still don't like boiled peanuts, which is what they bring to the table when you first sit down. I ate a couple because they were sitting there and I've been trying to get Blaze to try new foods, but ...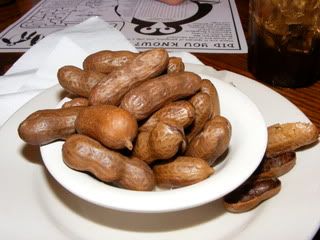 Blaze loved his meal! Fried fish and chips are his favorite foods (I think grease and salt are his favorite flavors) and he did try a new food. I ordered an oyster po-boy sandwich and Blaze tried one of the oysters and liked it so much, he continued stealing them from my plate.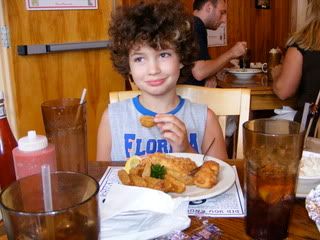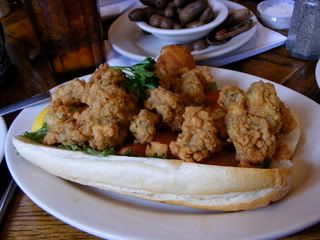 DH and I had also ordered cups of the she-crab soup, which appears on many Charleston menus, but it didn't have much flavor.
As we were getting close to the end of our meal, Blaze was given several stickers and a coupon for a free scoop of homemade ice cream in the shop attached to the restaurant.
What is a visit to a city steeped in maritime history, without a few pirates?
There were many infamous pirates who called Charleston home at some point during their lives, such as Blackbeard, Anne Bonny, and Stede Bonnet.
Pirates of Charleston
The best place we ate in Charleston was a pirate themed restaurant called The Buccaneer.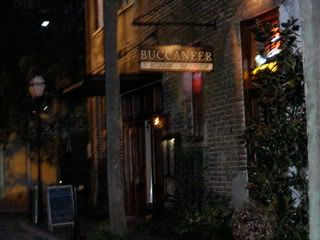 Finding it is a bit of an adventure. It isn't very far from the City Market on tiny Faber Street, which runs from East Bay ( which is a major thoroughfare) to nowhere. It is only about a block long and looks more like an alley than a real street, but I think that adds to the mystique of the restaurant. It's like finding a secret hideout.
The decor inside the restaurant manages to be tasteful and piratical at the same time.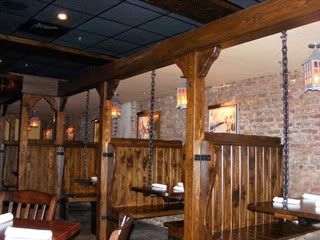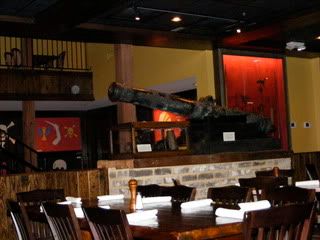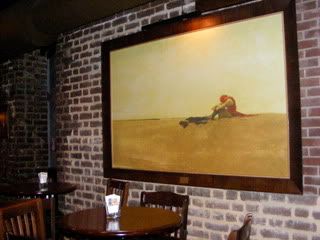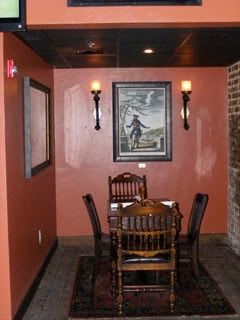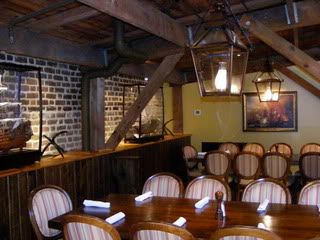 There is also a large aquarium in the center of the restaurant, that was good for keeping children entertained. Blaze particularly enjoyed watching the nurse shark in the tank.
We enjoyed our dinner at The Buccaneer so much that we returned for lunch the next day.
No boiled peanuts here. Before the meal, we were brought a small loaf of warm crusty bread, that DH suggested they should be selling out-front for people to take home. The crab dip appetizer, which came with homemade crackers, was wonderful.
There was also a relish tray that included homemade pickles, stuffed peppers, deviled eggs, and celery stuffed with spicy cheese.
There is a kids menu full of the kind of uninspiring foods that Blaze prefers. For dinner he chose a personal size pizza, the kind that is sold in the freezer at any grocery store, but that I never buy. He thought it was great!
It's the adult menu that is really something special. For dinner DH and I both had the shrimp and grits, which were wonderful. They were so good, that DH asked how they were made and is going to try making them at home.
The next day for lunch, I ordered the she-crab soup and was very impressed with how flavorful it was. Blaze had the homemade mac and cheese, which was regular mac and cheese, but DH ordered the more grown-up version, lobster mac and cheese which was incredible. He is planning to try cooking this at home too.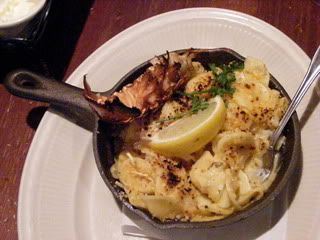 At dinner we had been too full to try any of the desserts, but since we had a lighter lunch we decided to each order a piece of chocolate cake. The pieces were so big that I think, between the three of us, we had 3/4 of the whole cake on our table, and it took us about three days to eat, but it was so good!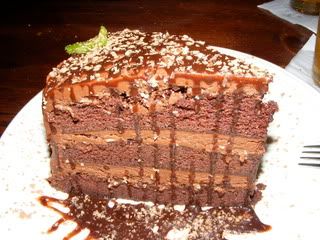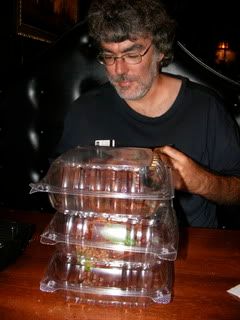 The Buccaneer is advertised as a museum, as well as a restaurant, so even after we had finished eating, there were cases full of artifacts to look at, such as this sword that is taller than Blaze: