After seeing the many styles of stone tools in the museum in Cherokee, we continued our own development of tools: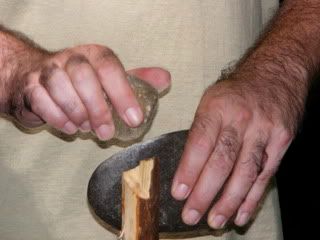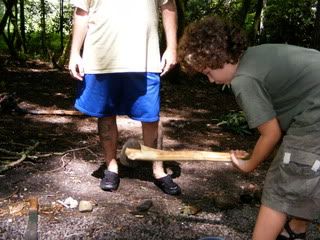 and someday we may become civilized.
The men don't actually do any hunting or fishing, but I do some gathering. I'm always the first person awake in the morning and I like taking early morning walks by myself. At the campground those walks were very profitable, because I was able to gather firewood left behind by other campers who had vacated their campsites. The price of wood at the Standing Indian Campground was $20 a load without kindling and $25 a load with kindling, but we never had to buy any wood.
The flat boards in this wood pile were ones we brought from home ( we had lined the trunk with scraps the workmen were throwing away), but the rest were one morning's scavenging before Dh and Blaze were awake.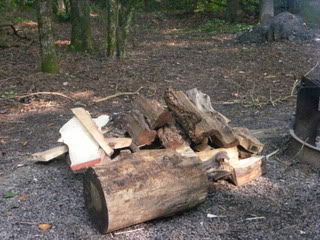 I think breakfast was our favorite meal cooked on the campfire, but it does take some planning ahead to have a good campfire breakfast, since the most important thing is a bed of very hot coals.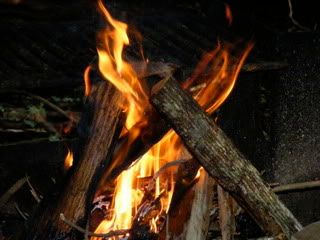 Campfire eggs
Eggs can, of course, be cooked in a frying pan over the fire, but this way was more fun.
Start by cutting oranges in half (fresh oranges travel pretty well) and juice them, saving the juice to drink with your breakfast.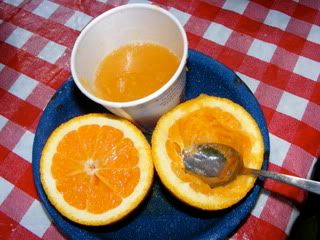 Next, remove all the orange pulp and membrane, so that the orange peel is an empty shell.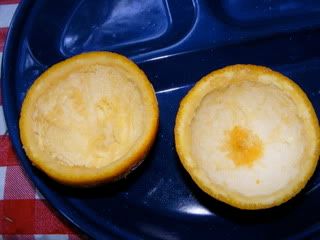 Break one egg into each orange half.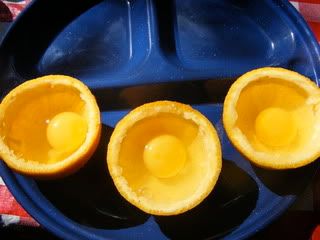 Use barbecue tongs to move the orange-eggs from the plate to the hot coals.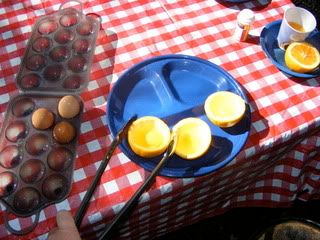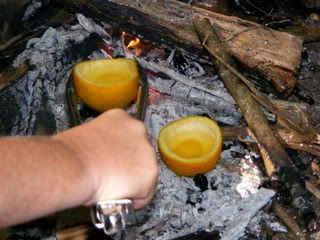 Two sticks can be used if you don't have a set of tongs, but that's a less stable way to move things.
After a few minutes, the egg will bubble and cook. Keep a close eye on your campfire cooking, because there is no exact cooking time here.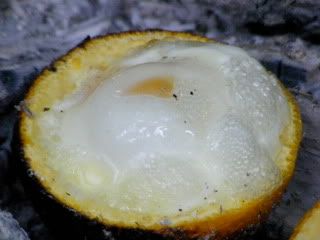 Serve with salt and pepper. The egg will have a pleasant orange flavor.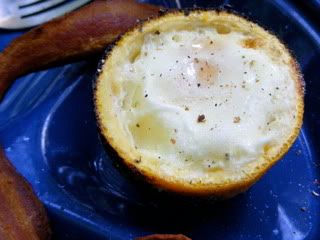 One of my favorite cooking tool for campfire cooking is my cast iron dutch oven. When my daughters were little we used our dutch oven for just about everything, biscuits, stews, and even baking cakes. That particular dutch oven is long gone and this camping trip was the maiden voyage of a brand new one.
To make biscuits in the dutch oven, simply use your favorite biscuit recipe from home. Blending all the dry ingredients at home and storing them in a zip-lock bag will make cooking in camp easier.
Step one is, once again, to have a bed of very hot coals.
Next, add milk and butter to the dry mixture and form your biscuits. Place the biscuits in the dutch oven and put the lid on.
Place the dutch oven on hot coals and use the tongs to place hot coals all over the lid. This allows heat to completely surround the food, just like in a regular oven.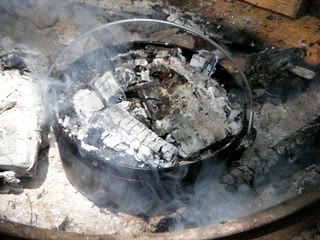 After about 20 minutes, remove the oven from the fire pit. Use a heavy duty oven mitt or a cast iron lid lifter. The entire pot will be blazingly hot, including the handle.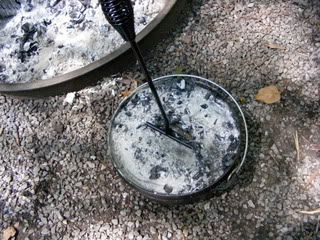 In the past I have used a stick as a lid lifter, but the real thing is so much better. We picked ours up for about $7 at Bass Pro Shop.