As many of you already know, we are living in a small apartment that is part of a Family Housing apartment complex at the University, while my husband is working on his PHD.
The university has decided it is time to do some major work on the pipes and grounds here this Summer, which is making this a not at all pleasant place to live.
First there were the loggers:
These were the beautiful old pine trees we could see out our living room window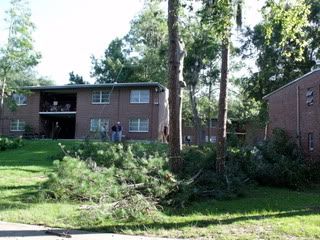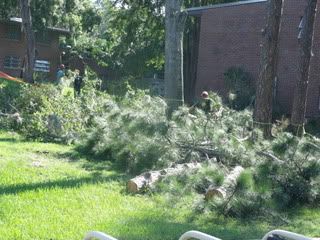 And the temporary plastic safety fencing went up everywhere, making it much more difficult to get in or out of the apartment. This picture was taken the day that we had trouble getting back into the apartment to change Blaze's clothes after swimming class.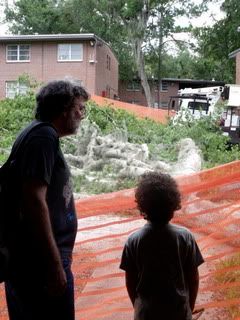 As you can see, I wasn't really exaggerating when I called them loggers. They've had a portable saw mill in the parking lot for several days now, turning those logs into boards.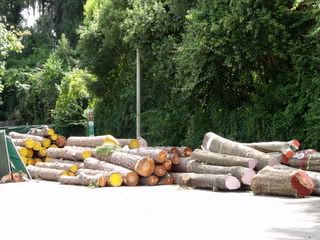 This is what the little hill in front of our apartment looks like now: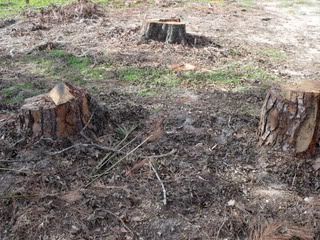 and we are not the only ones. Trees were cut down all over the complex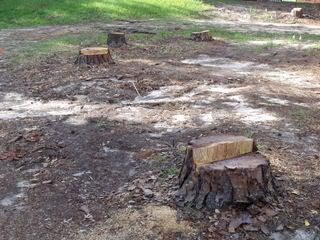 Blaze and I saw this board next to the portable saw mill and decided that it was the face of the Lorax, who is sad because so many of his trees have been cut down.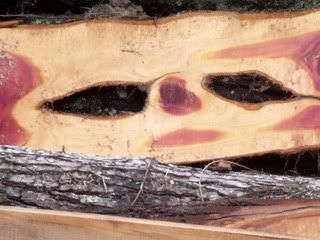 Then the digging began. We've been referring to these as giant gopher holes.
The point of the pits and trenches everywhere, is that they are replacing the underground gas pipes.
This meant that for two days last week we had no gas. To make up for that, everyone who lives here was invited to a free Vietnamese Cooking Night in our common room. The problem was, everyone who lives here really showed up. They've had special meal nights in the past, when the gas was still turned on, and they never had much of a turn-out, so that's what they were expecting this time, too.
Dinner service began at 7:00 p.m. and we didn't get there until 7:15, so we were pretty far back in the line, but there were at least that many people behind us, as well.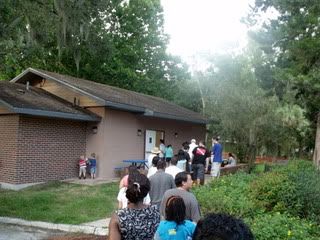 By the time we got to where the food was inside the building, this is all that was left
I've been calling it "my dinner of sorrow", but really mine was not as sad as Blaze's, because he doesn't like shrimp, or DH's because he says all he got was a piece of shrimp with an extra helping of sorrow.
When we got home from swimming today, this was waiting right outside our living room window.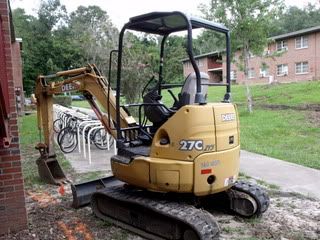 We had a notice on the door warning us that there will be no gas tomorrow.
Blaze has a positive way of looking at all this, though. He says that the men want to protect us. The trench they have now dug across the front of our building, is a moat to keep us safe and to catch all of the rainwater we've had this week.