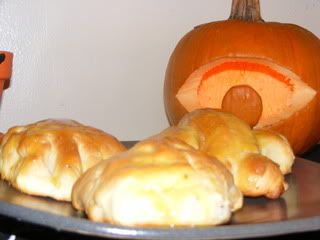 Making Pan de Muerto, "bread of the dead", has been a Halloween tradition for my family for 4 or 5 years now.
Ingredients
1/2 cup milk
1/2 cup water
1/2 cup butter
5-6 cups flour
2 Tablespoons dry yeast
1 Tablespoon whole anise seeds
1 teaspoon salt
1/2 cup sugar
4 eggs
In a saucepan over medium heat or in a 2 cup glass measuring cup in the microwave, heat milk, water, and butter until the butter is completely melted, but don't boil.
In a large mixing bowl, combine 1-1/2 cups of the flour, yeast, anise seeds, salt, and sugar. Pour in the warm milk mixture, beating as you pour.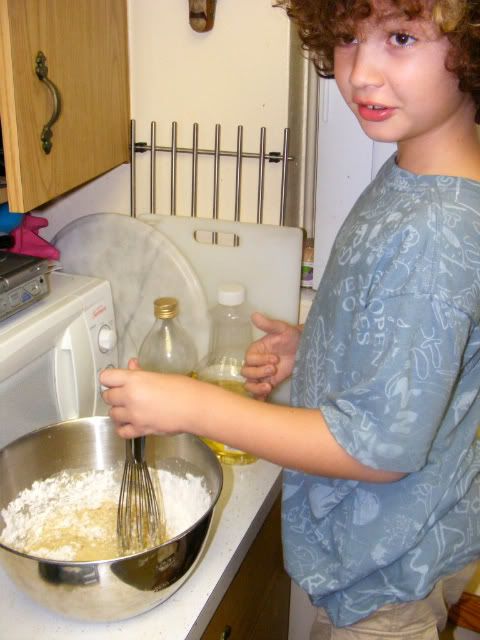 Add eggs and beat until well blended. Start adding more flour, a little at a time until a soft, but not sticky, dough forms. Hand knead, adding flour as needed, for about 10 minutes.
Form the dough into a ball and lightly oil the ball all the way around with vegetable oil. Place the dough ball back in the mixing bowl and cover with plastic wrap. Set the bowl in a warm place for about an hour or until the dough has doubled in size.
Pre-heat oven to 350 degrees F.
Punch down the dough and shape it into rolls that look like skulls or bones. Place the rolls on a greased cookie sheet and let them rise about one hour.
Bake for 20 minutes. As soon as the rolls are removed from the oven, brush with glaze.
Glaze
1/2 cup sugar
1/3 cup undiluted frozen orange juice concentrate
Bring to a boil, stirring constantly for 2-3 minutes.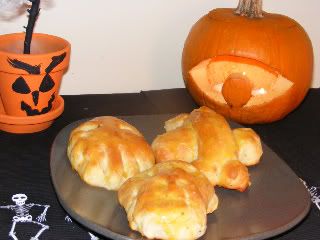 This is a traditional Mexican recipe used to celebrate The Day of the Dead, which is Nov.2 ( also known as All Souls Day).