Shhhhhh! Don't tell.
This is what Blaze is giving DH for his birthday next week.
We made this yesterday while DH was teaching his class at the university.
To make a cloth topped computer mouse pad you will need:

One piece of thick craft foam

Cotton Fabric

Heavy Craft Iron-On Interfacing

Tacky Glue

Scissors

An Iron and Ironing Board

1. Cut the foam to your desired size and shape. I just rounded the edges a little on ours, because I like the way that looks better than having it be a plain rectangle. This step is completely optional, though.
2. Use the foam as a template for the interfacing. Lay the foam on the non-sticky (non-shiny) side of the interfacing and trace around it. Cut along the tracing lines.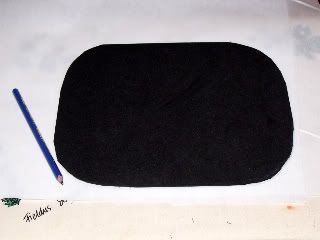 3. Iron the fabric flat. (Blaze thought this was the really cool part, because he's not usually allowed to touch the iron)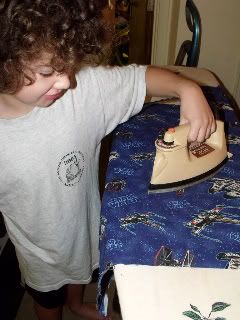 4. Place interfacing sticky side down on the back side of the fabric and iron until the interfacing fuses with the fabric.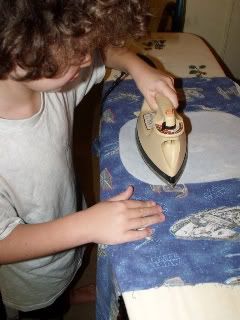 5. Cut the fabric about an inch larger than the interfacing. Then Iron the raw edge of the fabric over the back of the interfacing. This will give you a clean edge.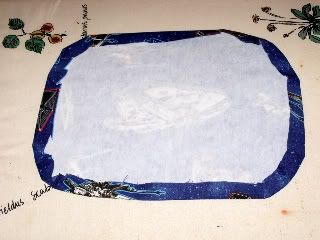 6. Spread tacky glue evenly all over one side of the foam pad.
7. Glue the fabric onto the foam. Smooth it out and straighten it until it looks just right and then let it dry over night.