I honor of the fact that we went to see the movie
Cloudy With a Chance of Meatballs
last night (which I highly recommend), our pre-trick-or-treating meal today is Spaghetti and Eyeballs.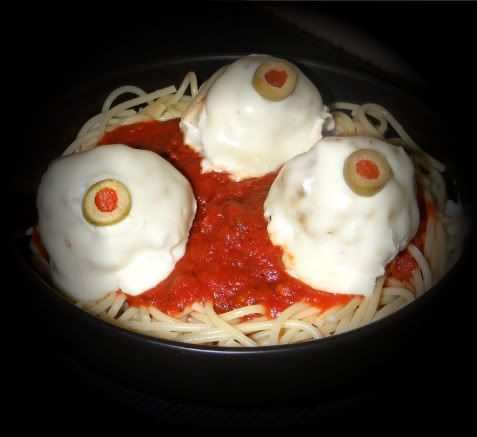 Eyeballs
Meatballs:
1 pound of ground beef
1/2 cup of Italian seasoned breadcrumbs
1/4 cup milk
1 small onion finely chopped
1 egg
1 teaspoon salt
1/8 teaspoon ground black pepper
Combine all of the ingredients in a mixing bowl, first using a spoon to stir and then kneeing by hand until everything is well mixed. Roll the meat mixture into balls and pan fry in 2 or 3 Tablespoons of vegetable oil until they are uniformly brown.
Cheese Sauce for the "whites of the eyes"
2 Tablespoons of butter
3 Tablespoons of unbleached all-purpose flour
1 Cup milk
1 Cup grated Mozzarella cheese
1/2 teaspoon garlic powder
1/2 teaspoon salt
In a small sauce pan, melt the butter. Add the flour and stir until a paste is formed. Add milk and stir over medium heat until it thickens. Stir in cheese, garlic powder, and salt. Stir until cheese is completely melted. Remove from heat
Place the cooked meatballs on a plate and pour cheese sauce over each one (do not dip the meatballs into the cheese sauce because it will "dirty"the white sauce). Use an olive slice for the pupil of each eye. A tooth pick dipped into the spaghetti sauce can be used to make the eyes look bloodshot.
Let the meatballs rest on the plate while you prepare the spaghetti.
Use a pancake-turner to move the finished meatballs.