This is even easier than the blueberry fruit leather recipe I post a couple days ago, because you don't have to dirty-up a blender.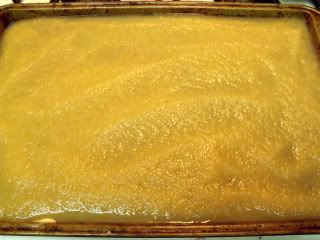 3 Cups of Applesauce
1 Tablespoon honey
1 teaspoon ground cinnamon
1. Stir everything together in a mixing bowl.
2. Spray a jelly-roll pan with non-stick baking spray.
3. Pour the applesauce mixture in the jelly-roll pan and spread it out evenly.
4. Bake in a oven set to "warm" or 150 degrees F. for 7 1/2 hours, with the oven door ajar about a inch.
DH suggested I make some kind of dessert sushi out of the fruit leather. I think he was really joking, but I did see something like that recently on another blog, I just can't remember which one. They had used rice crispy-marshmallow treats as the filling instead of rice and fruit roll-ups instead of nori. I think some had gummy worms in the center and some had Swedish fish on top.