We have been driving around with the tent in the car for over a week now, but the weather won't cooperate with our desire to go camping. This weekend, we had everything packed and ready to go, except the food. I had just finished filling the cooler with ice, when the thunder began. Then, DH went out to the car and found out one of the tires had gone flat, so instead of going camping, DH took the car to Sears to get the tire fixed ( it had a nail in it), while it poured down rain.
I was upset for awhile about not getting to go camping, but then Blaze and I started working on a camping scene in miniature.
First, we set up our campfire. The fire pit is a circle of strong cardboard with small stones glued around the edge and 4 twigs glued together to form the base of our "fire".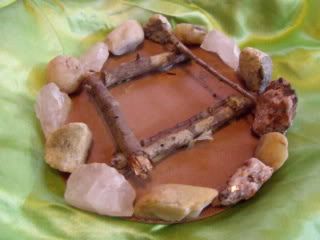 The other twigs that form the rest of the "fire" are glued together, but they are not glued to the base layer. That way, they can be lifted up to place a flameless, plastic votive candle inside, so the fire will look like it's burning. Finally, red, yellow, and orange wool roving is glued on top, to look like flames.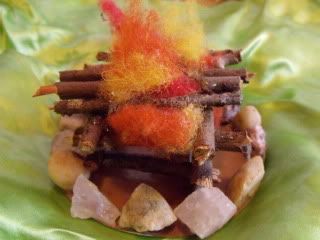 I then sewed two little bendy doll sized sleeping bags (I've been told I need to make more) and matching pillows, out of wool felt.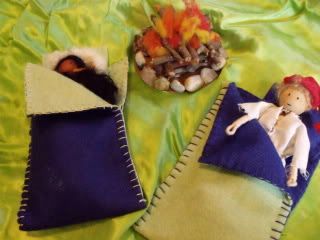 Blaze, of course, had to start a pillow fight with the tiny pillows.
The last thing I made this weekend was a doll-sized backpack, also out of wool felt.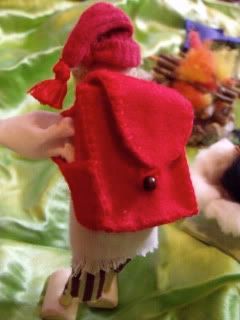 If this next picture is printed out as a full page photo, the patterns should be the correct size.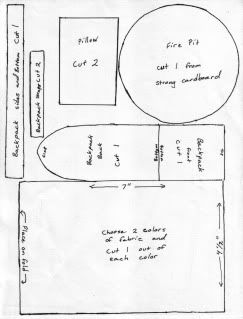 Since Blaze had been promised a chance to cook hotdogs for himself if we went camping, he got to cook hotdogs for all of us for dinner last night.