Homeschool Blogger, where I had my blog last year at this time, is getting ready to move their entire site, and since I don't know if they'll move the contents of an obviously inactive blog like mine, I figured I rescue a few more of my old entries. So, here is what we did last 4th of July:
7/4/08
Happy 4th of July everyone!
We had our fourth of July picnic last night, because Gainesville always has their fireworks show on the 3rd.
The fireworks almost didn't happen this year, because the University and the City were having trouble coming up with enough money to pay for the event, but after they had already announced that it was canceled, an anonymous private donor came through with the money they needed.
We didn't want to go join the crowds, so we sat out in our little garden house and had a picnic dinner and played with sparklers.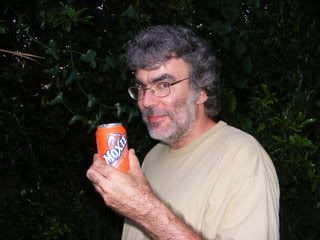 DH drinking the Moxie soda his friend brought him back from Boston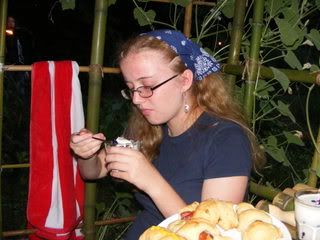 Death lights a sparkler
(o.k., it's really Nika in her hoodie, but it looks like Death)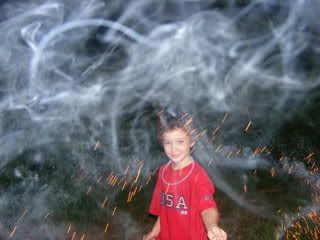 For a while we had a family of tourists join us. They stopped by to look at the bamboo house and talk about gardening and stayed for quite awhile. Having guests scared off Nika, because she was feeling crowded and doesn't like talking to new people.
The tourists left when the bugs started biting, so DH, Ula, Blaze, and I had the the whole student garden area to ourselves for the fireworks.