It's been a while since I've done a bento post, but I've been making lunches this week to take with us when Blaze goes to swimming class. The class gets out at noon and he's very hungry then, so we've been enjoying picnics right after swimming, instead of going straight home.
Since Monday was the 40th anniversary of the first moon landing, I made a moon landing bento lunch: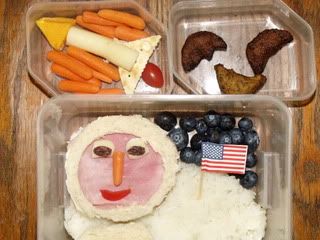 Today is the 40th anniversary of the splash-down.
If you are interested in learning more about the first moon landing, you should really check out this site:
We Choose The Moon
The tiny crescent moons in our moon landing bento are the results of my newest silly food experiment. Falafel can be shaped by cookie cutters and holds it's shape while deep-fat frying.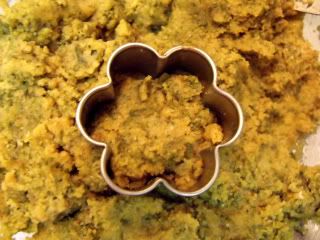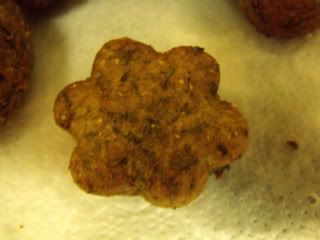 Tuesday's bento was a dragon theme, inspired by finishing the third book in the Dragon Slayers Academy Series (our current bedtime stories),
Class Trip to the Cave of Doom
.
I made peanut butter and jelly dragons with pretzel spikes and apple wings.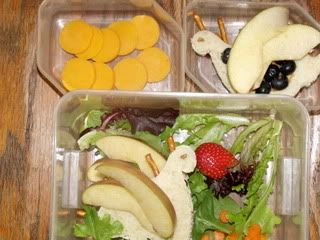 We have still been thinking a lot about camping even though we haven't been able to go yet ( this is week two of driving around with a tent and sleeping bags in the car), so Wednesday's lunch had a camping theme.
I guess I should have made "s'mors" as the dessert, but I figured bugs were a big part of any camping trip.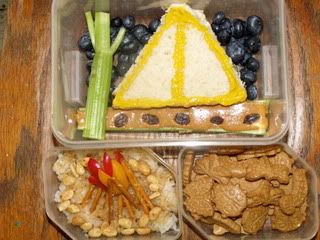 Mostly we've been having our picnics at the Thomas Center and Gardens, because it's close to the pool and very pretty.
This week, it was particularly fun to watch the Thomas Center's fountain, because it was full of soap bubbles ( I don't know why).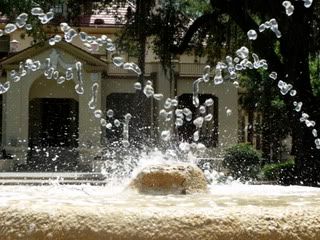 Thursday, I did not make a bento lunch, but I still tried something new, ham and cheese roll-ups, served on pretzel "tooth picks":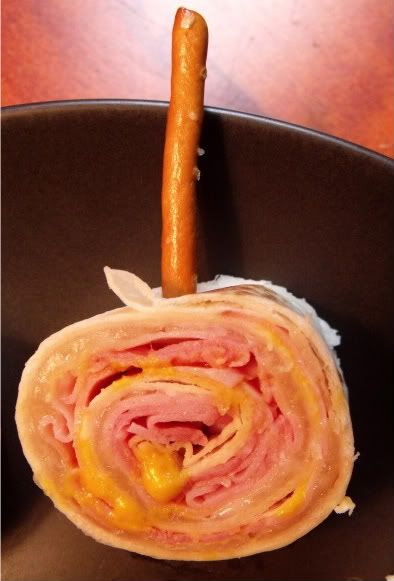 They are made by melting a little swiss cheese on a tortilla, using the microwave, then adding thin sliced ham and mustard.