I love this time of year! The temperatures are mild and every weekend there is something exciting to go do as a family.
Saturday we were still recovering from Halloween, but yesterday we went to the Micanopy Fall Festival.
Micanopy is a very small town with a quaint down town that probably hasn't changed much in the past hundred years, but for their Fall Festival every year, vendors line the streets selling arts, crafts, and food.
We wandered around through bookstores and antique shops while eating kettle corn.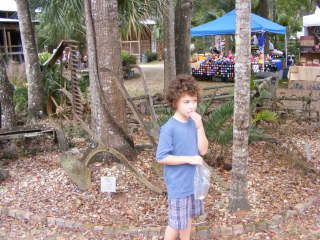 Then we hurried back to Gainesville to hear Joe Biden speaking on the university campus.
There were long lines of people waiting in the drizzling rain to get into the area where the stage was set up, but for security reasons, umbrellas were not allowed inside the fenced off area, so people started hanging their umbrellas on a tree (I just thought the umbrella tree looked funny).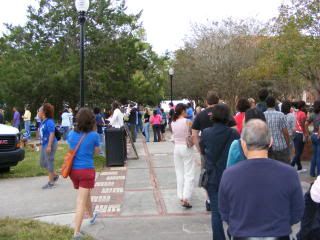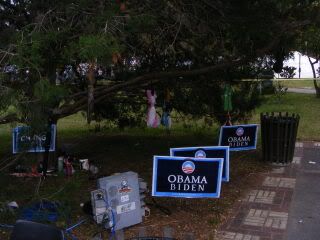 It was a very enthusiastic crowd and Biden managed to keep everyone's interest (without living up to his reputation as a long winded speaker).
Blaze enjoyed all the cheering and clapping, even if he doesn't really understand the issues.
No matter what the outcome is this Tuesday, I think it is important to show children that everyone can be part of the process.
This was the only really "colorful" character I saw in the crowd. His hat says "McCain Campaign Platform".