It finally feels like Fall. The temperature was down in the 30's last night, so it's finally good weather for making big pots of soup.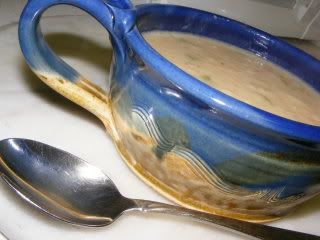 Senate Bean Soup
This is the recipe used in the U.S. Senate Cafeteria
1 pound dried white beans
6 Cups water
1 bay leaf
1/4 teaspoon crushed thyme leaves
1/2 pound potatoes
1/4 Cup milk
1/2 Cup chopped celery
1/2 Cup chopped onion
1/4 Cup chopped parsley
1 clove garlic
Soak beans in enough water to cover them, overnight. Drain and add 6 cups of fresh water. Bring to a boil. Add bay leaf and thyme. Cover the pan and cook over low heat 45 minutes.
Scrub potatoes, cut into halves or fourths and stream until tender. Mash and then beat in the milk.
Add potatoes and remaining ingredients to the beans. Cover and cook gently for one hour. Stir occasionally and mash the beans.
Add salt and pepper to taste.
Optional: We also had some leftover ham in the freezer and added that to the soup. It is not part of the original recipe, but it does taste good.