I had trouble coming up with inspiration for this week's unplugged challenge. I figured other people would be posting cooking projects and I wanted to do something different, since I post cooking projects quite often anyway. So, about half way through the week, Blaze and I made an inspiration gathering trip to Micheal's Arts and Crafts store. We found just what we were looking for!
In the unfinished wood isle, we found two little boxes that I thought we could turn into dollhouse size furniture for Blaze's bendy dolls. The smaller box was only 99 cents and it has a glass window in the top, so that became our oven. The larger box was $1.99 and that will become a pie safe, but we haven't had time to finish it yet.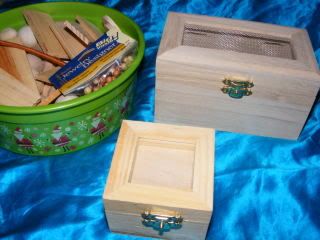 I have a box full of odd little wooden pieces for craft projects, so nothing else had to be purchased for this project. The only cutting I had to do was on the piece for the back of the stove. It was a little too long, so I cut it down to 5 1/5 inches and sanded it. Then we just glued the wood together.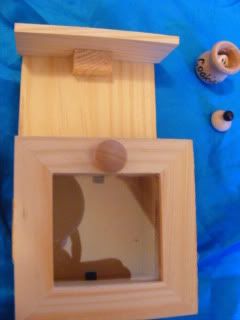 I found some things in the box of wooden odds and ends to make a cookie jar too.
Blaze painted the stove with white acrylic paint and he ended up with an audience. Two families, from the other side of our apartment building, came over to see what we were doing and stayed to talk.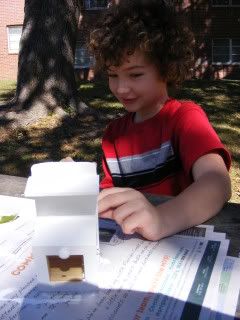 For the burners, I traced around pennies to get a perfect circle. The "Sharpie" didn't work on acrylic paint like I'd hoped, but a regular pen ended up working. Black acrylic paint would have probably worked best, but we didn't have any. The little knobs on the stove front are little wooden beads.
I set up this little kitchen scene in Blaze's room while he was outside playing, and when he came in and saw it, he was very excited. He spent a long time last night playing that he was cooking and having a tea party.