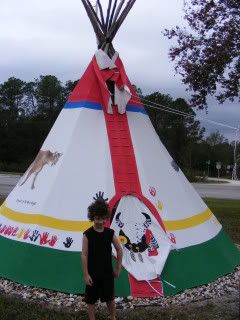 We stopped to see this Tepee on the way to St. Augustine the other day. It sits outside a roadside store that sells silver jewelry, Navajo rugs, pottery, and moccasins.
Blaze wanted to know why Indians lived in tepees, so we talked about the need to be able to pick up and move to follow the herds of buffalo that provided them with food and clothing.
In our own quest to provide food for our family, an awful lot of our garden plants have frozen over the past two nights. Last night it was down to 28 degrees. Unless the bean plants make a remarkable recovery after it warms up again, I think the bean tepee will have to be replanted in the spring. I've been having trouble growing the beans anyway, because there is a rabbit that likes eating the young plants. My perfect circle of little plants had become only a half circle before I found out that cayenne pepper will keep the rabbits away.
Blaze wasn't feeling well yesterday, so he spent most of the day in bed playing with his play mat over his lap for extra warmth and with the tepee we made together sitting on top of it.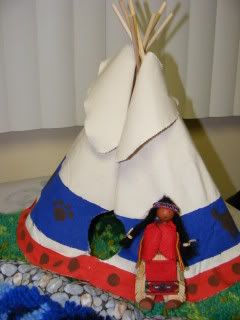 I'll post instructions for making the doll-sized tepee later.