The second part of the
Little House on the Prairie
bendy doll swap that I'm involved in, is making accessories to go with the dolls. I have always liked the illustration from the story Pa tells in
Little House in the Big Woods
, about he and his brothers sneaking off one Sunday to go sledding and running into a pig on the way down hill. The pig is sitting in his brother's lap on the sled in the picture, so I made a pink felt pig to sit on a sled that I found in the holiday craft section at Micheal's and painted.
We are very close to being done with the third book in the Little House series,
On the Banks of Plum Creek
. I've been reading two chapters a night aloud as a bedtime story, so I figure we'll be done by tomorrow night.
We'll also be reading books about the Pilgrims this week:
And some fun Thanksgiving books: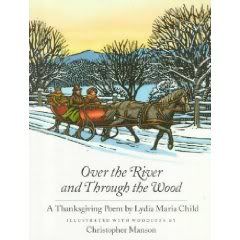 Cranberry Thanksgiving
has the best cranberry bread recipe printed on the back cover!