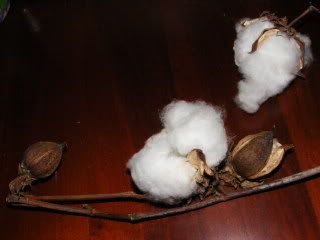 Since we are now thinking about what we can give people for Christmas this year, I decided to teach Blaze how to knit.
We started by looking at what cotton looks like when it's still on the plant.
Then Blaze made his own knitting needles, which he also thinks make great puppets.
To do this, we started off with a 1/4 inch dowel (left over from the tepee making) and I cut 2, 12 inch lengths from it.
Then Blaze sharpened one end of each stick with a pencil sharpener, but did not make it too sharp.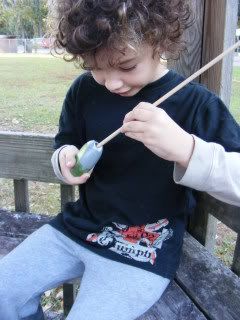 Next, he sanded the dowel to insure that there would be no splinters for the yarn to snag on.
Knitting needles have to have something on the non-pointy end to keep the yarn from sliding off, so Blaze chose two shells from our summer trip to Sanibel Island to glue onto the end of his needles.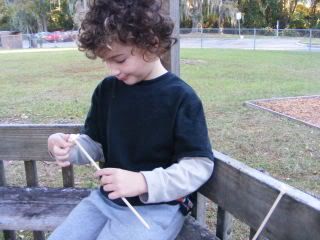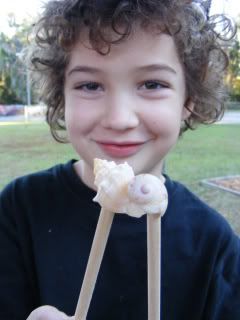 As soon as the shells were attached, he started putting on a little puppet show with them.
Before we began knitting, I polished the wood with bees wax and mineral oil wood polish that DH makes. This really helped to make the yarn slide easily over the wood.
To start knitting, I did the "casting on" (25 loops) and then I've been having him sit in front of me, so I can guide his hands.