I had a really fun afternoon with my two favorite boys!
We took Blaze to his first concert, the Dan Zanes concert at The Philips Center for the Performing Arts .
Before the concert, we watched Dan Zanes Videos on You Tube and Blaze tried to play along on his guitar.
Waiting for the show to start: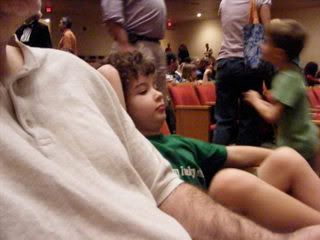 I highly recommend this show to anyone with children! It is one of the few cultural events where children can act like children.
They were encouraged to come down front, to an area that resembled a little kid mosh pit, and to sing along as loud as they could.
When one little girl decided to roll down the sloping aisle between the seats, nobody tried to stop her or talked about her in a negative way, we smiled and talked about how cute that was.
As a result of this freedom and the party atmosphere, I saw no fussy or poorly behaved children at the show, although there were a lot of tired children being carried out afterwards.
Sorry about the poor video and sound quality.
Some of the children from P.K. Young, one of our local schools, did a great job of performing with the band, too.
After the concert, we purchased a CD for Blaze and got it autographed by Dan Zanes, Colin Brooks (the drummer), and Sonia de los Santos ( who sings, plays guitar and mandolin).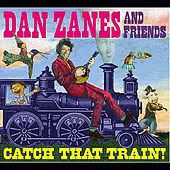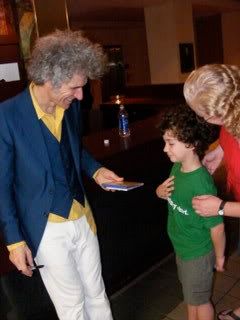 On the way back to the car, DH and I were talking about how we really should go to more shows at the Phillips Center, since DH gets a student discount on tickets (his ticket was cheaper than the children's ticket), but Blaze says he only wants to go back if Dan Zanes is playing again.
After the show DH took us out to dinner at Olive Garden, which seemed to be the destination for several of the families that had been at the show.