We have several of these vanilla scented pillar candles, so Blaze and I decorated one to be his new bedtime story candle for Spring.
I started pressing flowers right after Valentine's Day. Some of them are from the Valentine flowers DH gave me. The violets are from the woods near our garden.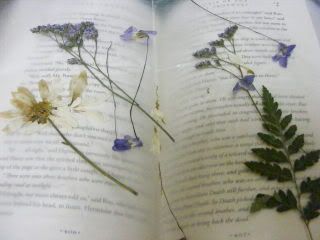 I press flowers in a folded piece of wax paper placed inside a large book, then I return the book to one of our overcrowded bookshelves, where it will be tightly squeezed shut. The wax paper keeps the flowers from sticking to the pages or staining them.
The book I'm using for pressing flowers right now is
Harry Potter and the Deathly Hallows
, because it's such a hefty tome and we have three copies of it ( we had pre-ordered one to pick up the day it first came out and then Blaze won two free copies from two different Harry Potter costume contests, one at the library and one at the book store).
I melted some paraffin in a cleaned out soup can, in an old pan with some water.
Using an old paint brush that we really didn't care about, we painted the wax over the pressed leaves and flowers, just thick enough to cover the plants in a thin, clear layer that held the plants in place, while pressing the plant up against the candle. In a couple spots, we also had to put a little hot wax under the plant, to get it to stick properly to the candle.
All ready to begin reading our bedtime story:
Here is what we read:
This book explains how people around the world, and through time, have celebrated the coming of Spring.