For his science lessons all last week, Blaze was learning about rainbows, so this week's topic for the Unplugged Challenge on
Unplug Your Kids
,"
water
", was perfect for us.
This project is kind of a transition between this week's science subject and our next unit. After a week off for "Spring Break", we are going to start a unit on plants.
We started off with a bouquet of white mums.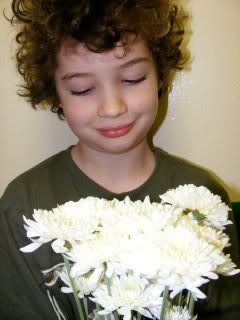 Then we filled six glasses about 2/3 full of water and added a different color of food coloring to each glass. We trimmed the stem of the mums with a pair of scissors, so they would absorb the water easier. Then we place one stem in each glass and set the glasses in a sunny window.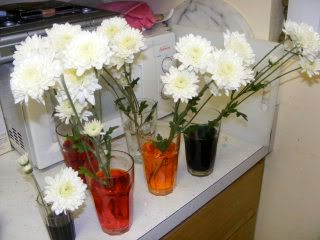 We started this project early Thursday afternoon. Within four hours, we were already seeing a tiny bit of color on the flower petals.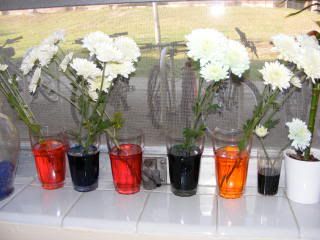 By the next morning, the color change was much more obvious, but only with some of the colors. Blue, green, and yellow worked. The flowers in the red food coloring never got any more color than this: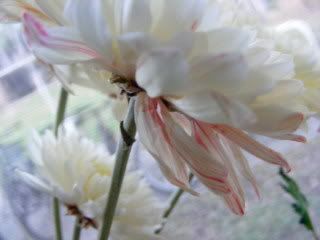 Another odd thing about the flowers in red, was that the leaves started shriveling up by Sunday, while the leaves in the other colors were still fully open and had started to change color.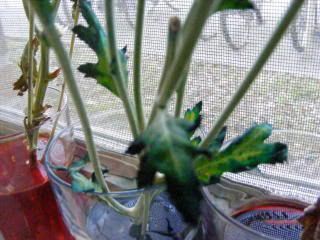 The orange colored water was made with a mixture of yellow and red food coloring, so those have turned yellow and the leaves have wilted.
The plan for these flowers is for Blaze to have rainbow colored bouquets to give to his therapists for St. Patrick's Day on Tuesday.
Our other "water" project was making rainbows by spraying the garden hose.