Since we are only a week away from St. Patrick's Day, Blaze is going to be learning about rainbows this week for science.
We started this unit by watching
The Magic School Bus Makes a Rainbow
, on You Tube.
Here is a poem to help children remember the color order in a rainbow:
"
Roy G. Biv
"
Roy G. Biv is an
Odd name for a fellow.
But what his name means is:
Red, Orange, Yellow
The G is for Green
Which as you may know
Comes right in the middle
Of every rainbow.
Next: Blue and Indigo
More pale than dark
Then V for violet--
And that completes the arc!
This theme even fit in perfectly with our math, because the third story for the Math Gnomes included a clever place value rainbow. Here is the one that Blaze made: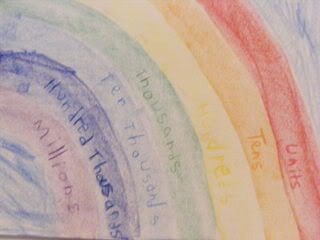 Edible Rainbow
This colorful desert looks simple when it's finished, but it actually took quite a bit of advanced planning, which started about three weeks ago when I had to explain to DH why I was getting a couple packages of Jello every time I went to the grocery store ( I don't buy Jello very often and DH only likes the red flavors). Then each layer of the rainbow had to set-up in the refrigerator before the next layer could be added, so the assembly took three days.
The Jello flavors of the Rainbow:
Violet=Grape
Indigo=Grape and Berry Blue mixed together
Blue=Berry Blue
Green=Lime
Yellow=Lemon
Orange=Orange
Red=Cherry
A little whipped cream makes a nice cloud on top.