We are continuing to learn about Johnny Appleseed this week by reading the book
Johnny Appleseed
, by Reeve Lindbergh.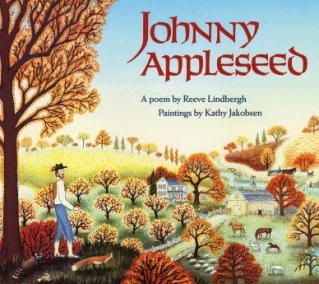 It turns out there is also a video interpretation of the book:
We are also reading
How to make an Apple Pie and See the World
(thanks Tammy for the book recommendation!). This book is about someone who wants to make an apple pie, but when she goes to buy the ingredients, she finds that the market is closed, so she sets off on a trip around the world to find all the supplies she needs.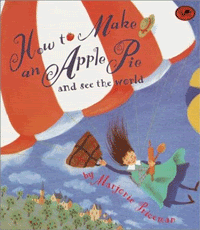 To go along with these two books, Blaze did apple print designs on a canvas bag that we can take with to the grocery store, so we don't use so many disposable bags.
We cut two apples in half, one vertically and one horizontally, because a vertically cut apple makes a print that looks like an apple, while a horizontally cut apple makes a circular print with a star in the middle. We used half of each apple for the prints and ate the other half.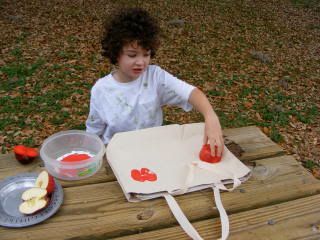 After the apple prints had all been made with red acrylic paint, Blaze used green paint and a thin paint brush to add stems on the prints that looked like apples.