This week's Unplugged Challenge theme at
Unplug Your Kids
is "long", so we made a long string of colored eggs to use as garland to decorate for Easter.
I've been saving the eggshells for 3 or 4 weeks to use to make Easter decorations. To do this, I use a sharp knife tip to make a tiny hole in the top and the bottom of the egg and then I blow the egg out of the shell. Then I wash the egg out with water and set it aside to dry.
Before beginning our garland, I dyed some of the eggshells with food coloring and a little vinegar in water. Once the dyed eggs were dry, it was time for Blaze to string them.
We used decorative ribbon which we taped to a bamboo skewer. Using the skewer like a sewing needle, made threading the eggshells much easier.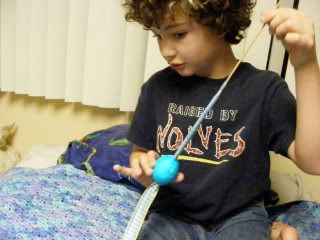 We tied a double knot in between each egg to keep the eggs from moving around and bumping into each other.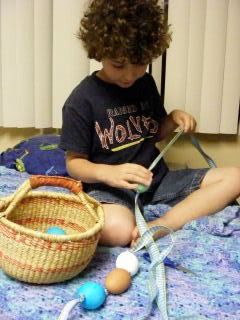 All of the eggs got strung without any being broken, although some of the holes were widened a little as the ribbon passed through.
Blaze modeling the finished product: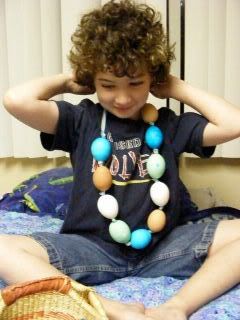 And here it is hanging above the door to Blaze's room: