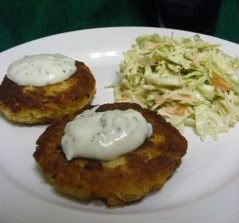 Salmon Patties with Parsley Sauce
2 6-ounce cans of salmon (boneless)
1/2 cup cracker crumbs ( this time I used panko bread crumbs and they worked very well)
1 egg, beaten
1/4 Cup parsley sauce ( the recipe will follow this one)
1 Tablespoon lemon juice
1/4 teaspoon black pepper
vegetable oil for frying
1. Drain all the water from the canned salmon. Place the salmon in a large bowl.
2. Add the cracker crumbs, egg, parsley sauce, lemon juice, and pepper. Mix well.
3. Heat 2-3 Tablespoons of oil in a large frying pan.
4. Using wet hands, shape the salmon mixture into patties.
5. Fry the patties for about 5 minutes on each side or until they are an even golden brown.
6. Serve with a spoonful of parsley sauce on each patty.
Parsley sauce
4 Tablespoons of fresh parsley, washed and finely chopped
1 Tablespoon lemon juice
1 Cup mayonnaise
1/8 teaspoon salt
1/8 teaspoon pepper
1 Tablespoon milk
Place everything in a blender or food processor and puree until the sauce is smooth and flecked with green.
Homemade Coleslaw
(Because cabbage is what our garden is producing best)
1/2 Cup sour cream
1/4 Cup mayonnaise
1 Tablespoon cider vinegar
1/2 teaspoon seasoned salt
1/2 teaspoon dry mustard
1/8 teaspoon ground black pepper
1 head of cabbage, shredded
1 carrot shredded
2 Tablespoons finely chopped onion
Mix sour cream, mayonnaise, seasonings. Add the cabbage, carrot, and onion and toss until the vegetables are well coated with the sauce.
Blaze is a very picky eater, but he cleaned his plate when we had this dinner (he ate VEGETABLES!!! )