It's been warm, sunny, and beautiful every day recently, so we've been working out in the garden quite a bit, planting new seedlings for Spring.
So far we've set out 6 Roma Tomato Plants, 6 Green Bell Peppers, 2 Japanese Eggplants, 2 Jalapeno Peppers, 6 cayenne peppers, and some herbs. There are 6 zucchini plants that still need to go in the ground, but we haven't decided where to put them yet.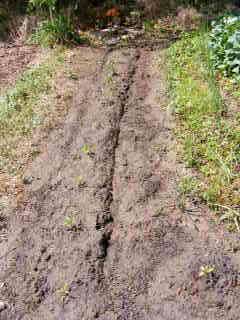 Blaze and I also dug the fairy garden out of it's winter covering of straw and fixed it up.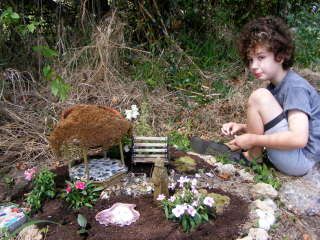 The little gazebo in the fairy garden was something I made last year out of an old bird feeder we found, that had no floor anymore. To make a new floor for it, I filled in the empty space with polished rocks and plaster-of -paris. Then I used water proof glue to stick sheet moss all over the roof. It's held up pretty well through all kinds of weather. Just a little bit of the moss is dangling down now. The little park bench and the wooden carving came from thrift stores last summer.
Last summer we had made a path out of crushed shells, which was very pretty at first because they sparkled in the sun, but they had washed away since then, so Blaze and I repaved the path with polished rocks from the dollar store.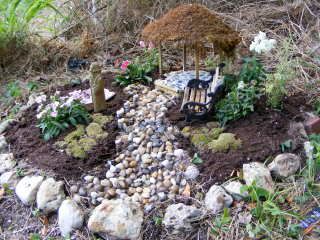 Bean plants and snow peas have started growing up the bamboo tepee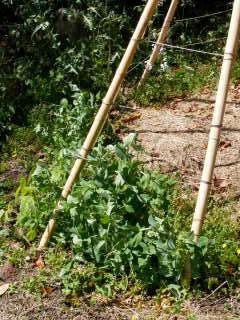 and we've been harvesting snow peas every day.