The next step in this summer/fall's bento lunch obsession, was to find the perfect bento lunchboxes in which we could carry our food. None of the Asian grocery stores in our area carried the Japanese style bento boxes, but I found these boxes which I absolutely love: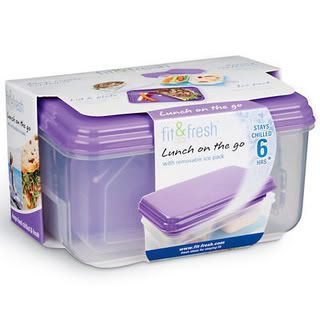 Inside the main box there is an ice pack and two smaller boxes that fit on top of the ice pack. The packaging claims that it will stay cold up to 6 hours.
I bought one of these lunchboxes for each member of the family (except for the surly teenager, who said she didn't want one). They come in solid colors. I found the ones with blue lids at K-mart and the ones with purple lids at Target and Albertson's, but I wanted to make them more individualized, so I decorated them with stickers (and in the case of the one with the full moon, glow-in-the-dark acrylic paint) and then painted over them with clear nail polish to make the pictures water proof. So far they've been holding up very well to frequent washings (it's been about 2 months).
DH's lunchbox: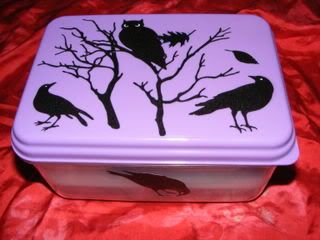 Blaze's lunchbox:
Ula's lunchbox:
And My lunchbox: