Yesterday we drove down to Zellwood, Florida to go to the corn maze
Here is what the two corn mazes would look like if you could fly over them in a plane: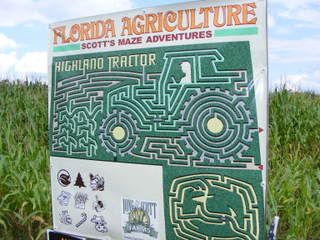 But, here is what they look like from the observation tower at the farm: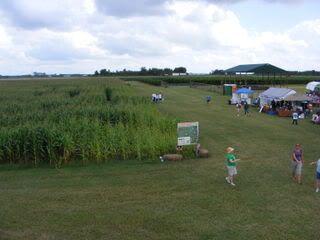 There are also smaller non-corn mazes. This was a rock maze: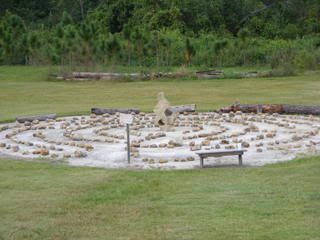 and this was the mist maze, which Blaze loved and ran through several times to cool off, because it was hot outside.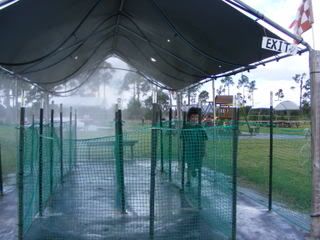 As each group enters the large maze, they are handed a flag that they can wave above the corn if they get so hopelessly lost that they require rescuing.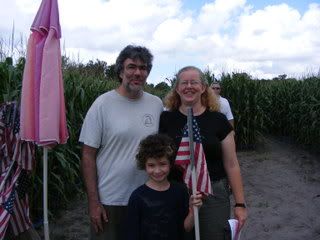 Each group is also given a game sheet to help motivate people to finish the maze and have more fun. There is a page of questions to be answered and a page for crayon rubbings. Numbered stations are set up throughout the maze, with the answers and rubbing plates.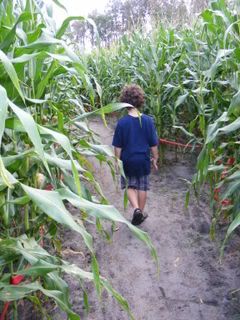 We didn't finish the whole maze. We spent about an hour inside the large one and then found an exit, much to DH's relief. I wanted to go back in and finish the maze (we had gone through the whole tractor part, but not the rest), but DH said the corn was making him itchy and Blaze had started complaining that his leg hurt.
This was Blaze's favorite part:
It's a tube slide that runs down through a man-made hill. The kids sat on gunny sacks and came down pretty fast.
Blaze must have gone down it 10 times, which is a big deal for him, because there were all those stairs to get to the top and he is often afraid of stairs because his (mild) cerebral palsy makes them hard to climb.
He loved that slide so much that now he says he wants to build one.
There was a nice covered picnic area where we were able to sit and eat while watch the children doing "catch and release" fishing around a little pond.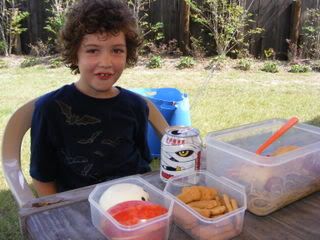 We also tried some of the sweet corn grown right there on the farm. Blaze had never been willing to try corn-on-the-cob before, but I bribed him with another trip down the slide if he'd just try a bite of the ear of corn I had bought to share with DH. He loved it so much, he didn't want to give it back to us.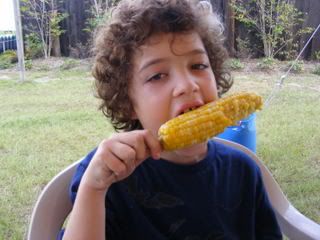 Everything tastes better on a stick!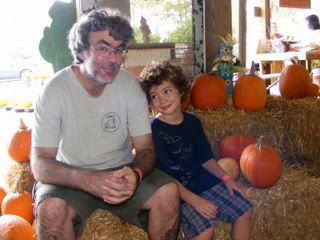 On the way out, we purchased a dozen ears of corn to take home and a couple cucumber which are also grown there.
Last night, Blaze wanted corn-on-the-cob with his dinner.