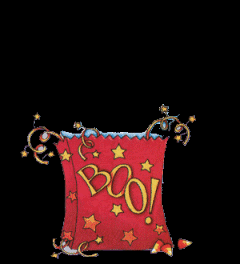 I had a sudden brain storm late Wednesday night, that the perfect project for Halloween would be shadow puppets that we could use to act out a Halloween story. After deciding to do this, everything just seemed to fall into place to make it possible. A cardboard box that was just the right size for our puppet theater was being thrown out at the school where I work, and black card stock, which is usually 50 cents a sheet, was on sale at Jo-Ann Fabrics for 20 cents each.
Yesterday afternoon, I cut the top and back off the box and cut a window in the front. Then Blaze helped me spray paint the entire box black. He really enjoyed the spray paint, although we had a little trouble with wind.
We then left the box to dry while Blaze went to occupational therapy and speech.
When we came back, we read "The Headless Horseman" and started making puppets of the characters. DH was a great help with the puppets, because he can draw anything. He drew our people and I just cut them out. The horse stencils we used came from www.spraypaintstencils.com.
After each character and a few pieces of scenery were cut out of black card stock, we glued each one to a thin dowel rod cut into about 6 inch lengths.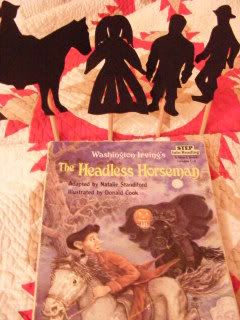 We taped a piece of white paper over the window on the box/theater and we were ready to try out our puppets. To get the puppets to show up on the paper screen, the puppets must be held up against the screen while a light shines from behind them. Blaze has a lamp with three flexible arms, that worked perfectly for this, although a large flashlight would work equally well.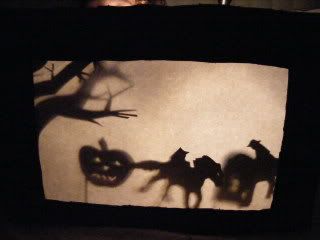 We plan to practice our show a little more today, before presenting it to DH and Nika tonight, but here is Blaze learning how to use the puppets last night
I also just found this great resource for shadow puppet stencils, so we may have many plays to come. www.hvanrossum.com
A couple days ago I, also, discovered a website called "Unplug Your Kids". Each week there is a themed challenge for parents to come up with projects to do with their children, instead of parking the children in front of the t.v.. I'm going to post the link in my list of favorite websites.
This week's "unplugged challenge" was "thin", so I think the shadow puppets work very well for that.