If you read my last post and are interested in where some of those logbook activities come from, here are some of my favorite resources for pre-made activities that work great as logbook pages:
www.evan-moor.com
Evan-Moor is a publisher of teachers' resource materials and they print a series of books of "pocket activities" for history and language arts, that I really love. For 1st-3rd grade, they also publish a set of books that contains monthly "pocket activities" and that series includes some science (whales, weather, etc.)
If you sign up to have the Evan-Moor newsletter sent to your e-mail, it contains free worksheets and lesson ideas.
This is one of the books we are using right now to learn about Native Americans: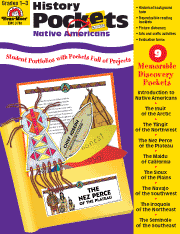 Another useful resource for elementary students is Learning Page, which is completely free and offers thematic worksheets, on subjects like dinosaurs, insects, space, and oceans.
www.learningpages.com
The following website offers free "shape books" that you can print out to use for writing projects in a logbook.
www.canby.com/hockmanchupp/student_folder_websites
I also really like Enchanted Learning for maps that can be colored and little books that can be printed out, but it does require a membership fee to get full access to the site.
www.enchantedlearning.com
I haven't used the Draw Write Now series of books yet, but I think they look like they'd work well for logbook pages. I've been waiting until Blaze is more comfortable with writing before I use them, because they contain copy work along with following directions to draw a picture. Our public library has some of the Draw Write Now titles and I purchased one they didn't have at a homeschool convention.